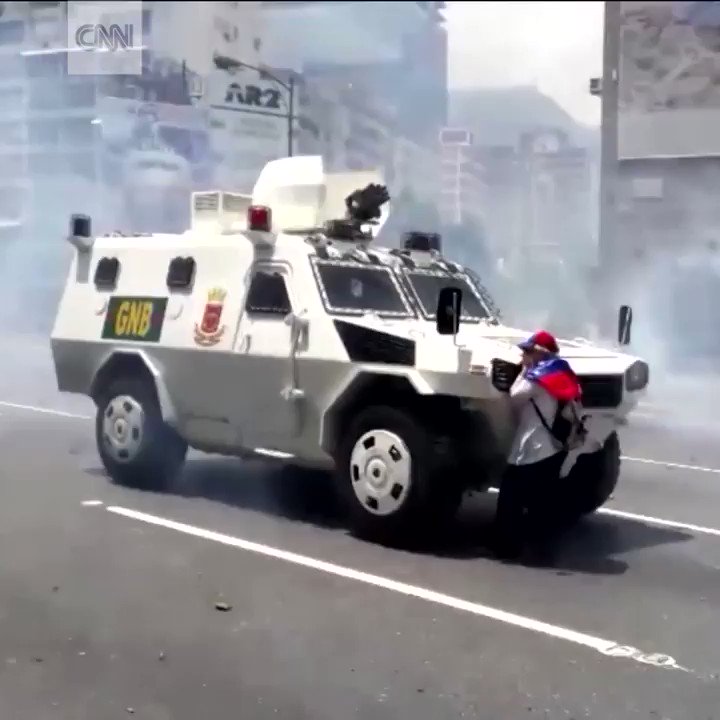 Venezuela's Tiananmen moment: The woman and the truck
A demonstrator stands in front of an armored vehicle during protests Wednesday, April 19, in Caracas, Venezuela.
Venezuelan opposition protesters burn an effigy of their country's Vice President, Tareck El Aissami, during a protest on Easter Sunday, April 16, in Caracas, Venezuela.
Clouds of tear gas spread across a highway in Caracas, Venezuela, during clashes on Monday, April 10, between demonstrators and the Bolivarian National Guard.
Demonstrators help a journalist whose leg was injured while covering clashes between demonstrators and the Bolivarian National Guard during a protest in Caracas, Venezuela.
Venezuelan police line up before clashing with opposition activists during a protest on Thursday, April 6, against the Maduro government in Caracas.
An unknown woman stood down an armored vehicle amid protests on the streets of Caracas, evoking memories of the lone protester in 1989 in China's Tiananmen Square.

@CNN: Woman stands down armored vehicle amid protests in the streets of Caracas, Venezuela
Then a woman stepped out of the smoke and in front of one of the hulking National Guard trucks, stopping them in their tracks.

In a video posted to Twitter, she ran up to the truck until she got in front of it and it stopped. Unfazed by a nearby explosion, she placed her hands on the vehicle's front fender.

Another video by La Patilla's Eduardo Ríos captured the scene a few moments later.

As the woman stood before the truck, a voice on a loudspeaker barked out. A man popped out of a turret atop the truck and tossed an object towards the woman, who stepped calmly out of its way. It skittered down the street.

Then the rinoceronte began backing up. Instead of walking away, the woman followed it.

The image is reminiscent of Tiananmen Square's Tank Man, who stopped a column of four Chinese military tanks on June 5, 1989.

Lilian Tintori, wife of opposition figure Leopoldo Lopez, mentioned "La Dama" and China's Tank Man in a speech Wednesday evening.

"I feel so proud of Caracas. Look at the photo — the video — of the woman who stood in front of the tank," she said.