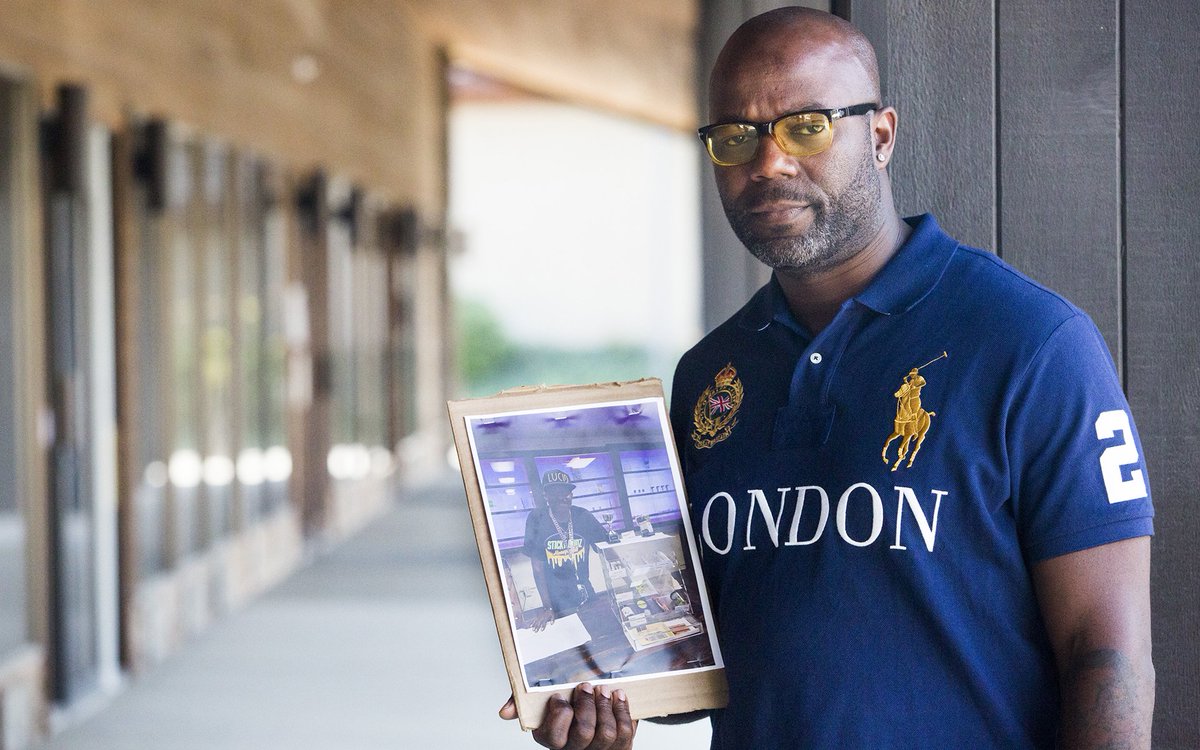 Washington Budtender Abducted, Still Missing
The abduction of Cameron Smith from the Lucid retail store in Cheney, just outside the city of Spokane, has rocked the local cannabis community.
The male suspect and one woman attempted to enter the dispensary, but when asked for identification, the male could not provide his ID, saying he had left it behind in Yakima, a city located about 190 miles west of Cheney, Turner said.
Smith, the 46-year-old barber-turned-budtender from Toledo, Ohio, exited his car for a moment and walked right past the male suspect.
Efforts were made to ping Smith's cell phone, but the signal was lost near Medical Lake, at which point authorities believe the suspect threw Smith's phone out the window.
A Cheney Police Department spokesperson told Leafly on Tuesday that Smith's vehicle had been located in Airway Heights near Medical Lake, which is where authorities last made contact with Smith's cell phone.
A Washington state budtender remains missing after he was abducted outside the Cheney dispensary where he works.

@WeedFeed: Washington Budtender Abducted, Still Missing
Dennis Turner, owner of Lucid, holds a picture of his brother, Cameron Smith, outside of Lucid in Cheney, Wash., Tuesday, Sept. 12, 2017. Smith, an Ohio native, moved to Cheney last year after retiring from being a barber. "He is one of those guys, just naturally a chameleon. Whether it be from being a barber or budtender, he used cannabis as a gateway to develop some really awesome relationships. It was really moving to watch him develop so many relationships so fast in this community," said Turner. (Sofia Jaramillo for Leafly)

A well-known budtender from a Eastern Washington cannabis dispensary remains missing this week after being abducted outside the shop Sunday afternoon.

The abduction of Cameron Smith from the Lucid retail store in Cheney, just outside the city of Spokane, has rocked the local cannabis community.

According to Dennis Turner, Lucid's co-owner and Smith's brother, the encounter started off simply enough.

Two women and one man pulled up to the dispensary in a white Ford F-250 truck, he told Leafly. Turner recalled that one of the female suspects appeared to be watching the dispensary intently. "It looked like she was casing the building, checking out the video cameras, and walking around the building," he said.

The male suspect and one woman attempted to enter the dispensary, but when asked for identification, the male could not provide his ID, saying he had left it behind in Yakima, a city located about 190 miles west of Cheney, Turner said. He was subsequently denied entrance. The woman produced identification that showed her year of birth as 1999, Turner said. "She wasn't in compliance and she was rejected from the shop."

"Our brother, Cam, was working as lead budtender—he's everyone's favorite budtender," Turner told Leafly. "On lunch, he likes to sit in his car and listen to his music while he eats."

Smith, the 46-year-old barber-turned-budtender from Toledo, Ohio, exited his car for a moment and walked right past the male suspect. He then returned to his vehicle, a 2008 silver Acura SUV, to finish his lunch.

"The gentleman pulled up to Cam's car and it appeared there was a verbal exchange between them," Turner explained, referring to video surveillance footage that captured the moment between the two men. "At that point, the dude pulled a gun out and fired two shots into the car. It knocked out the back window. He jumped into the driver's seat and took off with Cam still in the car."

The two accompanying women took off in the white Ford truck, which was later reported stolen from the White Swan area of Yakima County.

"We haven't seen or heard from him since," said Turner.

The Cheney Police Department responded to requests saying they have warrants out for two individuals, but neither are currently in custody. Law enforcement have identified the male suspect as Donavon Culps and the woman as his 18-year-old niece, Violetta Culps, both from the White Swan area of Yakima.

The case has expanded to include the nearby Spokane Police Department, Yakama Tribal Police, and the FBI.

Efforts were made to ping Smith's cell phone, but the signal was lost near Medical Lake, at which point authorities believe the suspect threw Smith's phone out the window.

"They're treating it as a kidnapping and potential homicide," Turner said. "This guy has an extensive criminal background."

The team at Lucid Marijuana has not given up hope. The group planned a vigil seeking Smith's safe return, and law enforcement has been using all resources to bring him home. There's been an outpouring of support local community members on social media, as Smith is well-known and well-loved within the small town of Cheney.

"They put out an APB [all-points bulletin] on his vehicle," Turner said. "They've got helicopters searching, they've got the dogs out."

A Cheney Police Department spokesperson told Leafly on Tuesday that Smith's vehicle had been located in Airway Heights near Medical Lake, which is where authorities last made contact with Smith's cell phone.

"The Washington state crime lab is still processing the scene," Cheney PD reported. "We still have not located the victim."