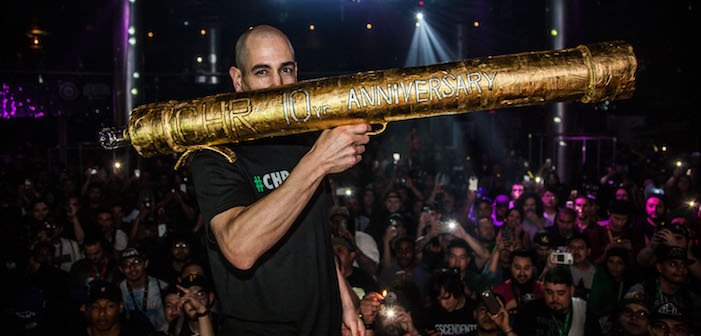 5-Pound "Bazooka Blunt" Sets New World's Largest Blunt Record
Last night in Los Angeles, Weavers unleashed a new world record joint-blunt on the ganja galaxy with his "Bazooka Blunt," shattering the previous record by 0.8 of a pound.
Rolled for the 10-year anniversary party of Herbal Remedies (CHR Los Angeles), the blunt took form after Weavers saw a rocket launcher online.
While his inspiration was a rocket launcher, Weavers calls his Mona Lisa a bazooka blunt because everyone started calling it that and the shape resembles a (very large) bazooka.
I put a 1 inch dowel rod down the middle of the blunt.
When you remove the dowel rod it will leave a hole in the middle of the blunt.
Five pounds of weed costs (give or take) $10,000. Smoking a five-pound blunt shaped like a rocket launcher for four hours straight? Priceless. Last night

@mjdotc: #WakeAndBake with the new record-holder for World's Largest Blunt. See the pictures here:
Five pounds of weed costs (give or take) $10,000. Smoking a five-pound blunt shaped like a rocket launcher for four hours straight? Priceless.

Last night in Los Angeles, Weavers unleashed a new world record joint-blunt on the ganja galaxy with his "Bazooka Blunt," shattering the previous record by 0.8 of a pound. Rolled for the 10-year anniversary party of Herbal Remedies ( CHR Los Angeles ), the blunt took form after Weavers saw a rocket launcher online.

"After I got my inspiration, I went to the hardware store, bought a five-foot pipe used for plumbing and the caps used to extend the pipe."

Next, Weavers received the two pounds of Los Angeles Kush and three pounds of LA Kookies from CHR and began turning his vision into a reality. That reality took an entire week to sculpt, and grinding all the weed up took Weavers an entire day.

For the blunt itself, Weavers used Black Mamba Royal Bunts to form the inner layer and then wrapped King Size gold Shine Papers for another layer to give the blunt its gold appearance. While his inspiration was a rocket launcher, Weavers calls his Mona Lisa a bazooka blunt because everyone started calling it that and the shape resembles a (very large) bazooka.

But how exactly did Weavers get this blunt to stay lit for four hours?

"I make most of my blunts by molding some type of object; it's like paper mache. I molded my shotgun handle and used cardboard to make a holder for your shoulder. When rolling something over a pound you need to insert a skewer or dowel rod for airflow. I put a 1 inch dowel rod down the middle of the blunt. The weed has to be packed very well around the dowel rod. Then you let it sit for two to three days so the weed can cure in the shape it was packed into. When you remove the dowel rod it will leave a hole in the middle of the blunt. This cools the smoke and make the blunt burn evenly all the way."

For the glass mouthpiece seen on the blunt, Phuncky Feeltips crafted a one-of-a kind 50mm tip:

The rest is lit history. Check out some videos of this blunt in action right here:
5-Pound "Bazooka Blunt" Sets New World's Largest Blunt Record