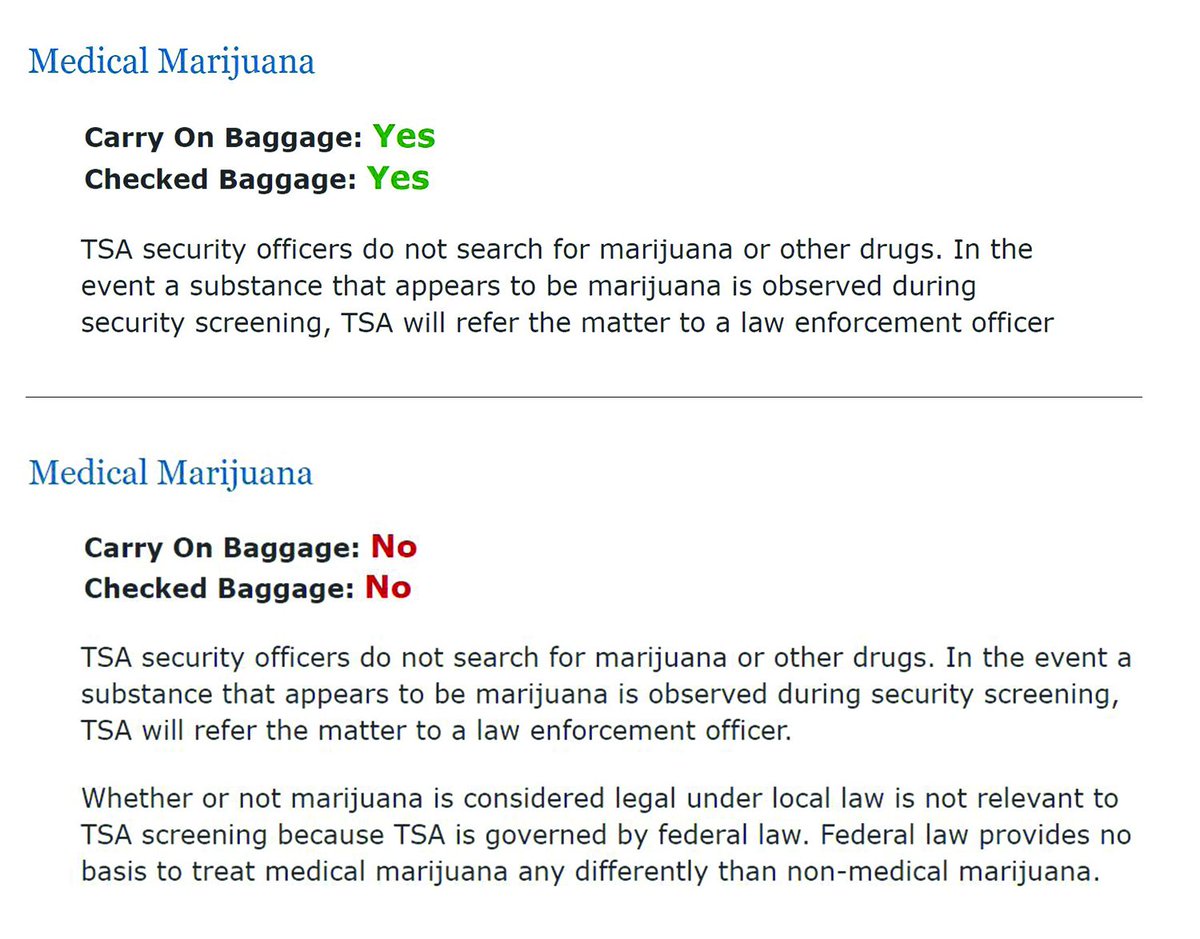 UPDATE: TSA Approves, Then Revokes, Medical Marijuana Flight Clearance
Recent changes to the Transportation Security Administration's (TSA) website officially cleared medical marijuana for takeoff, then grounded it again.On April 5, TSA replaced its "Prohibited Items" page with a new "What Can I Bring?"
The new section on medical marijuana says it is OK for patients to bring their cannabis in a carry-on or in a checked bag, with no additional special instructions.
An error (shown above) on TSA's website showed medical marijuana was allowed in checked and carry-on bags.
Earlier in the day, TSA stated that cannabis is not an enforcement priority for its agents, which are tasked with maintaining the safety of all travelers in the U.S., but that it remained a federal crime to be in possession of cannabis.Additionally, this policy reversal means that medical marijuana is not allowed on flights or any other form of transportation, rolling back even the special instructions it used to have to be permitted.
And while it remains a non-priority, TSA officers "have to report [narcotics] to law enforcement when discovered," TSA said in its statementAirports may also have their own rules when it comes to medical cannabis.
TSA officers "have to report [narcotics] to law enforcement when discovered."

@editorCBT: UPDATE: TSA Approves, Then Revokes, Medical Marijuana Flight Clearance
Update 4:37 p.m. 4/5/2017: This story was updated to correct a factual error on the TSA website and include a new statement from the TSA on their error. Medical marijuana is NOT allowed on any flight.

  Recent changes to the Transportation Security Administration's (TSA) website officially cleared medical marijuana for takeoff, then grounded it again.

On April 5, TSA replaced its "Prohibited Items" page with a new "What Can I Bring?" page. The new section on medical marijuana says it is OK for patients to bring their cannabis in a carry-on or in a checked bag, with no additional special instructions. But that notice was a mistake, according to a statement from TSA.

"There was an error in the database of a new search tool that is now corrected," TSA said in a statement. "While we have no regulations on possessing/transporting marijuana, possession is a crime under Federal law."

An error (shown above) on TSA's website showed medical marijuana was allowed in checked and carry-on bags. That error was corrected within three hours (shown below).

Earlier in the day, TSA stated that cannabis is not an enforcement priority for its agents, which are tasked with maintaining the safety of all travelers in the U.S., but that it remained a federal crime to be in possession of cannabis.

Additionally, this policy reversal means that medical marijuana is not allowed on flights or any other form of transportation, rolling back even the special instructions it used to have to be permitted. This is the first move on marijuana by the Trump Administration.

While agents are not looking for cannabis, that does not mean that bags cannot be flagged for inspection because of suspected cannabis. And while it remains a non-priority, TSA officers "have to report [narcotics] to law enforcement when discovered," TSA said in its statement

Airports may also have their own rules when it comes to medical cannabis. For example, the Denver International Airport does not allow anyone to bring cannabis on the airport's property, let alone on a flight.

Related story: Canadian Gov. to Press U.S. on 'Ludicrous' Marijuana Border Policy

Photo at top: humonia | iStockphoto.com
UPDATE: TSA Approves, Then Revokes, Medical Marijuana Flight Clearance