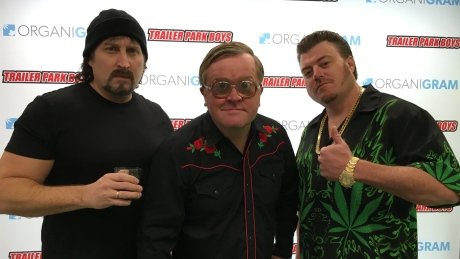 Trailer Park Boys and Organigram partner in pot products
Hopes to be producing 16,000 kilograms of marijuana as early as 2017.
18,000 plants are producing at least five strains of marijuana at the Moncton facility at any given time.
By Tori Weldon, CBC News Posted: Nov 24, 2016 8:00 PM AT Last Updated: Nov 24, 2016 8:00 PM AT
Stigma of the lazy pot-smoker hurts medical marijuana users
Gracewood sees the Trailer Park Boys as a perfect fit to partner with Organigram when the new legislation is announced.
Organigram Inc announced on Wednesday it will be partnering with TPB Productions to develop a Trailer Park Boys line of marijuana products in preparation for the legalization of recreational marijuana.

@CBCNB: Trailer Park Boys and Organigram partner in pot products:
Ray Gracewood, chief commercial officer at Organigram inc. said the partnership announced Wednesday is the first public step toward preparations for gearing the company up for legal recreational use.

"Plants take a long time to grow, so we need to make sure that we — pardon the pun —  but we have to plant the seeds now to sort of prepare ourselves for the future."

The company purchased an adjacent building over the summer, to ensure there is enough room to accommodate the growing business.

"We're hoping to produce 16,000 kilograms of volume as early as next year," said Gracewood.

Organigram, of Moncton, is the only producer of medicinal marijuana in New Brunswick that is licensed by Health Canada.

The Trudeau government said it will have new legislation, legalizing marijuana by the spring of 2017.

Gracewood sees the Trailer Park Boys as a perfect fit to partner with Organigram when the new legislation is announced.

"There's a certain stigma that comes with the product right now, but I think that part of our job is normalizing that." 

"I think it will be fun, i think we have to keep the industry fun."