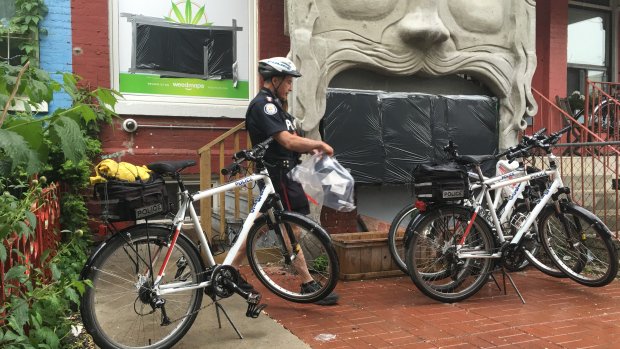 Toronto police raid pot shops suspected of trafficking
Toronto police execute search warrants at Kensington Market pot shops.
Toronto police executed search warrants Thursday at a handful of storefront marijuana dispensaries where they believe pot is being sold illegally.
Police executed search warrants at a number of dispensaries where they allege trafficking has occurred.
Craig Brister, spokesman for Toronto police, said officers from the drug squad, working with the city's municipal licensing and standards investigation bureau, began executing the warrants at noon ET.
Police declined to say where search warrants were executed, but police were spotted at dispensaries in Kensington Market and along on the Danforth.
Read the full article, click here.
---
@CBCNews: "Toronto police raid storefront pot shops a week after warning over zoning #marijuana"
---
Toronto police are executing search warrants today at a handful of marijuana dispensaries where their believe trafficking has occurred.
---
Toronto police raid pot shops suspected of trafficking