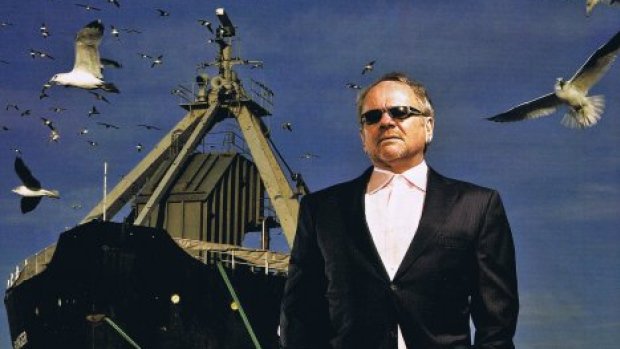 Too legit to quit: Former drug smuggler Brian O'Dea cashing in on marijuana legalization
St. John's native Brian O'Dea has created a new career in the pot business decades after being one of the world's biggest smugglers in the 1970s and 80s.
Years later, the deal would come back to haunt him and see him go to prison.
O'Dea teamed up with the rappers to brand their names on cannabis products being sold legally in the U.S.
His last score was a $250-million dollar deal in the early 1980s to smuggle 68 tonnes of pot to the U.S.
The drugs caused a massive heart attack.
St. John's native Brian O'Dea, one of the biggest drug smugglers in the world in the 1970s and 80s, is partnering with some of the biggest names in hip-hop to create a new career in the world of legal pot.

@CBCNews: Too legit to quit: Former drug smuggler Brian O'Dea cashing in on marijuana legalization
St. John's native Brian O'Dea was one of the world's biggest drug smugglers in the 1970s and 80s. Today, after leaving the illicit pot trade behind, he's created a new career in the world of legal pot, partnering with some of the biggest names in hip hop.

"I don't know if I'm using that [smuggling] experience per se, but what I do is connected to that kind of world," O'Dea told CBC News.

"I have a branding company and I'm currently working with the Wu-Tang Clan, Kurupt of the Dogg Pound, Snoop's Dogg Pound, and I'm branding them in the cannabis world."

O'Dea teamed up with the rappers to brand their names on cannabis products being sold legally in the U.S.

Wu-Tang co-founder Ghostface Killah is marketing a concentrated marijuana called Wu Goo. Kurupt, the Dogg Pound rapper and former vice-president of Death Row Records, is selling Moonrock, one of legal pot's strongest strains.

'Because of my history, they thought I could be trusted to work with them.' – Brian O'Dea

"They approached me, first of all. Because of my history, they thought I could be trusted to work with them," said O'Dea.

"I have branded their names on various cannabis products that are available legally in California and about to be in Colorado, Arizona, Nevada and Michigan."

Cannabis is an increasingly legitimate business in North America these days as more jurisdictions legalize marijuana.

Now change is coming to Canada.

Justin Trudeau promised to legalize marijuana when he was campaigning to become prime minister last year.

He put former Toronto police chief, and Liberal MP, Bill Blair as the point man on the weed file, after winning the election.

Currently, there's a federal task force consulting with people across the country with the aim of making recommendations on what a more relaxed marijuana regime should look like.

New pot laws this spring

The government has promised to introduce new legislation early in 2017.

O'Dea has very strong opinions on the approach he'd like to see.

"What really gets me about it is the bureaucracy I see being shuffled up behind all this. Also what really gets me is the number of officials from various government and police agencies who are all involved in the pot business," he said.

"Not one of them have considered for a second to apologize to the people who smuggled it for years."

O'Dea is in that group. His last score was a $250-million dollar deal in the early 1980s to smuggle 68 tonnes of pot to the U.S.

Amazingly, he and his partners pulled off the deal while under surveillance by the U.S. Drug Enforcement Administration.

Two years later, he bought a kilo of cocaine and locked himself inside a friend's guest home while hiding from drug enforcement.

The drugs caused a massive heart attack. He ended up in hospital, where his recovery included addiction therapy.

O'Dea got clean and became a drug and alcohol addictions counsellor.

The day the past came knocking

In 1991, his past finally caught up with him. The DEA arrested O'Dea. He pleaded guilty and was given a 10-year sentence.

He spent a year in prison in the U.S. before being transferred to Springhill Institution in Nova Scotia.

A year later, he was released on parole.

Today, with the cannabis business becoming more and more legitimate, he believes people like him should be forgiven for their past.

"Not one of them have considered for a second to apologize to the people who smuggled it for years, for hounding them and their families and destroying lives. Now they want in on the deal. They want theirs."

"I'm not talking about me cause I could give a s–t: I'm too old. There are lots of people who deserve to have their records wiped out."

O'Dea has a very clear idea of how he'd like to see a legal cannabis industry operate in Canada.

He looks to the regime now in place in Colorado as the blueprint.

There, every government-approved pot dispensary has a grow-op attached to it, to supply their own business while allowing them to grow extra to supply other dispensaries.

O'Dea has a feeling that's not the approach that will be used in Canada.

'They will put it in the bureaucracy that already exists so they can grab as much money off it as they can.' – Brian O'Dea

"You see who's getting in the game. Shoppers Drug Mart … is applying for a distribution licence for this product —  I'm sure every [liquor store] — and it's probably going to be left up to the provinces and they will put it in the bureaucracy that already exists so they can grab as much money off it as they can."

Despite his grumbling, the 68-year-old's own career is taking off.

His branding company is ramping up as the wave of pot legalization sweeps over North America.

He's created several television shows and one or two look like they might get picked up.

And he's just signed a deal to have his autobiography, High: Confessions of a Pot Smuggler, turned into a movie.

"You can't stop and not only that, I mean what am I going to do? There's nothing else I want to do. When I hit the grave I want my shoes wore out and I want holes in the knees of my pants, you know what I mean."
Too legit to quit: Former drug smuggler Brian O'Dea cashing in on marijuana legalization