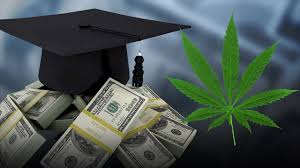 First-ever marijuana tax scholarships awarded to 25 Pueblo students
Pace said the ballot language allows 400 students to receive a scholarship next year.
The county teamed up with the Pueblo Hispanic Education Foundation to start awarding the scholarships to high school students this year, although next year is when the full funds will be available.
To distribute the funds, county commissioners partnered with the Pueblo Hispanic Education Foundation, which has been privately raising funds for student scholarships since the 1980s and is the largest scholarship entity in the county.
Pueblo County hopes to set aside $750,000 for high school senior scholarships
Pueblo County has set aside around $750,000 in college scholarships for high school seniors, and all of that funding came from marijuana excise taxes.
Pueblo County has set aside $750,000 from marijuana excise taxes to help Pueblo high school graduates go to college.

@CannaFactsByNMJ: The first ever Marijuana tax scholarships have been awarded to 25 Pueblo students
Pueblo County has set aside around $750,000 in college scholarships for high school seniors, and all of that funding came from marijuana excise taxes. 

The county teamed up with the Pueblo Hispanic Education Foundation to start awarding the scholarships to high school students this year, although next year is when the full funds will be available. The county also applied for the 2015-16 Colorado Opportunity Scholarship Initiative matching scholarship grant, which was approved for $226,597. 

Wednesday, as a sort of pilot program, 25 students were awarded $2,000 scholarships — $1,000 from the excise tax funds and a matched $1,000 from the Colorado opportunity grant — which they can use at Colorado State University-Pueblo or Pueblo Community College. 

Janet Calzadillas Chavez is one of those recipients. She just graduated from Pueblo East High School after a busy four years in the National Honor Society, DECA, the Future Business Leaders of America and volunteering at her church, all the while playing varsity tennis. 

She will be the first in her family to go to college, and this scholarship, along with a few others that she earned, may mean she can avoid taking out loans. Chavez is going to study elementary education, and, if she did well on her International Baccalaureate exams, she will finish her degree in just three years.

"I've always loved kids, and I want to be able to impact their lives and make a difference," Chavez said. "I would like to be in a school where I can make a difference."

The excise tax initiative was put on the ballot last year, after Sal Pace, Pueblo County commissioner for District 3, worked to find a way to funnel money into furthering education for Pueblo students. 

"I have been deeply concerned about the cost for college," Pace said. He knew that bringing in more high-tech companies would aid Pueblo's failing economy, he said, but it was a chicken-and-egg kind of problem.

"We want an educated workforce to bring in high-tech companies, but how do we get the educated workforce without the high-tech companies?"

When he was elected county commissioner, he realized the immense impact marijuana cultivation was having on Pueblo's economy. Growers in Denver were moving from their expensive warehouses in the city down to Pueblo to grow where it is less expensive.

He worked on legislation that would allow the county to earmark excise taxes from marijuana for special projects — 50 percent of the money for scholarships and 50 percent for community improvement projects.

To distribute the funds, county commissioners partnered with the Pueblo Hispanic Education Foundation, which has been privately raising funds for student scholarships since the 1980s and is the largest scholarship entity in the county. Still, in the past the foundation was forced to turn some applicants away. 

"It's exciting. I feel like we are usually looking at more applicants than we have available funds," said Beverly Duran, executive director of the foundation. "This may pose the opposite problem to us: Will we have enough applicants for the funding?" 

Pace said the ballot language allows 400 students to receive a scholarship next year. That's a higher-end estimate based on the average number of Pueblo County high school graduates in previous years who went to CSU-Pueblo or Pueblo Community College.

Xavier Madrid, another student who received the scholarship, plans to pursue liberal studies to become an elementary educator. Like Chavez, he will be a first-generation college student. He said some people might criticize the scholarship because of its marijuana origins, but the point is whom the money will help. 

"Getting the scholarship, I believe, is a very great opportunity. It gives me that extra motivation to go and achieve school," Madrid said. "I'm humbled to be one of the first ever to receive the scholarship, and I believe it's more than just marijuana money."
First-ever marijuana tax scholarships awarded to 25 Pueblo students