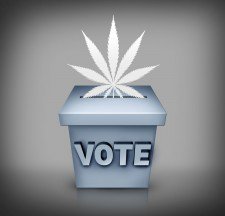 The Big Picture: State-By-State Marijuana Ballot Initiative Update
Key business highlights: Allows for up to 38 dispensaries across the state.
Initiative: The Regulation and Taxation of Marijuana Act , by the Campaign to Regulate Marijuana Like Alcohol (run by the Marijuana Policy Project)
Key dates: The campaign must submit its signatures to the secretary of state by July 7.
Key business highlights: The initiative doesn't have a residency requirement or a long-term numerical cap on permits.
Latest polling: 53% of voters support the initiative to legalize recreational marijuana, according to a March poll by EPIC-MRA.
Read the full article, click here.
---
@WeedFeed: "State-By-State Guide to Marijuana Ballot Initiatives – Check your state – (from @mjbizdaily)"
---
This year could prove a turning point for the legal cannabis industry, with at least 15 potential ballot measures in 12 states that could go before voters in November.
---
The Big Picture: State-By-State Marijuana Ballot Initiative Update