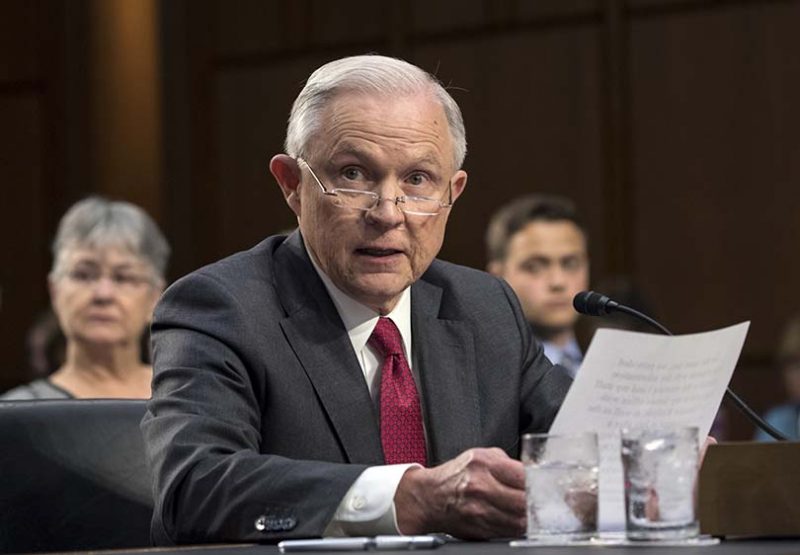 Sessions: Softened approach to drug enforcement led to surge in drug abuse and violent crime
Yet in 2013, subject to limited exceptions, the Justice Department ordered federal prosecutors not to include in charging documents the amount of drugs being dealt when the actual amount was large enough to trigger a mandatory minimum sentence.
Within one year after the Justice Department softened its approach to drug offenders, the trend of decreasing violent crime reversed.
The truth is less than 3 percent of federal offenders sentenced to imprisonment in 2016 were convicted of simple possession, and in most of those cases the defendants were drug dealers who accepted plea bargains in return for reduced sentences.
The truth is that while the federal government softened its approach to drug enforcement, drug abuse and violent crime surged.
There are those who are concerned about the fate of drug traffickers, but the law demands I protect the lives of victims that are ruined by drug trafficking and violent crime infecting their communities.
U.S. Attorney General Jeff Sessions say Obama-era softening on drug enforcement led directly to increased drug trafficking, drug abuse and violent crime.

@cannabist: Sessions: Softened approach to drug enforcement led to surge in drug abuse and violent crime
Published: Jun 19, 2017, 8:21 am • Updated: Jun 19, 2017, 12:25 pm

By Jeff Sessions, Special To The Washington Post

Drug trafficking is an inherently violent business. If you want to collect a drug debt, you can't, and don't, file a lawsuit in court. You collect it by the barrel of a gun. For the approximately 52,000 Americans who died of a drug overdose in 2015, drug trafficking was a deadly business.

Yet in 2013, subject to limited exceptions, the Justice Department ordered federal prosecutors not to include in charging documents the amount of drugs being dealt when the actual amount was large enough to trigger a mandatory minimum sentence. Prosecutors were required to leave out objective facts in order to achieve sentences lighter than required by law. This was billed as an effort to curb mass incarceration of low-level offenders, but in reality it covered offenders apprehended with large quantities of dangerous drugs. The result was that federal drug prosecutions went down dramatically – from 2011 to 2016, federal prosecutions fell by 23 percent. Meanwhile, the average sentence length for a convicted federal drug offender decreased 18 percent from 2009 to 2016.

Before that policy change, the violent crime rate in the United States had fallen steadily for two decades, reaching half of what it was in 1991. Within one year after the Justice Department softened its approach to drug offenders, the trend of decreasing violent crime reversed. In 2015, the United States suffered the largest single-year increase in the overall violent crime rate since 1991.

And while defenders of the 2013 policy change point out that crime rates remain low compared with where they were 30 years ago, they neglect to recognize a disturbing trend that could reverse decades of progress: Violent crime is rising across the country. According to data from the FBI, there were more than 15,000 murders in the United States in 2015, representing a single-year increase of nearly 11 percent across the country. That was the largest increase since 1971.

The increase in murders continued in 2016. Preliminary data from the first half of 2016 shows that large cities in the United States suffered an average increase in murders of nearly 22 percent compared with the same period from a year earlier.

As U.S. attorney general, I have a duty to protect all Americans and fulfill the president's promise to make America safe again. Last month, after weeks of study and discussion with a host of criminal-justice participants, I issued a memorandum to all federal prosecutors regarding charging and sentencing policy that once again authorizes prosecutors to charge offenses as Congress intended. This two-page guidance instructs prosecutors to apply the laws on the books to the facts of the case in most cases, and allows them to exercise discretion where a strict application of the law would result in an injustice. Instead of barring prosecutors from faithfully enforcing the law, this policy empowers trusted professionals to apply the law fairly and exercise discretion when appropriate. That is the way good law enforcement has always worked.

Defenders of the status quo perpetuate the false story that federal prisons are filled with low-level, nonviolent drug offenders. The truth is less than 3 percent of federal offenders sentenced to imprisonment in 2016 were convicted of simple possession, and in most of those cases the defendants were drug dealers who accepted plea bargains in return for reduced sentences.

Federal drug offenders include major drug traffickers, gang members, importers, manufacturers and international drug cartel members. To be subject to a five-year mandatory sentence, a criminal would have to be arrested with 100 grams or more of heroin with the intent to distribute it – that is 1,000 doses of heroin.

The truth is that while the federal government softened its approach to drug enforcement, drug abuse and violent crime surged. The availability of dangerous drugs is up, the price has dropped and the purity is at dangerously high levels. Overdose deaths from opioids have nearly tripled since 2002. Overdose deaths involving synthetic opioids rose an astonishing 73 percent in 2015.

My fear is that this surge in violent crime is not a "blip," but the start of a dangerous new trend – one that puts at risk the hard-won gains that have made our country a safer place.

Some skeptics prefer to sit on the sidelines and criticize federal efforts to combat crime. But it's not our privileged communities that suffer the most from crime and violence. Minority communities are disproportionately impacted by violent drug trafficking. Poor neighborhoods are too often ignored in these conversations. Regardless of wealth or race, every American has the right to demand a safe neighborhood. Those of us who are responsible for promoting public safety cannot sit back while any American communities are ravaged by crime and violence.

There are those who are concerned about the fate of drug traffickers, but the law demands I protect the lives of victims that are ruined by drug trafficking and violent crime infecting their communities. Our new, time-tested policy empowers police and prosecutors to save lives.

Sessions is U.S. attorney general
Sessions: Softened approach to drug enforcement led to surge in drug abuse and violent crime