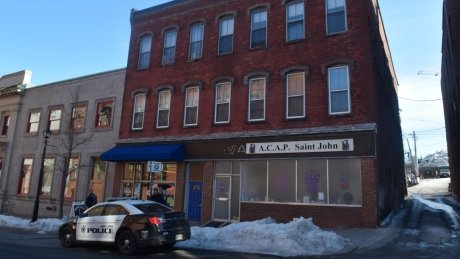 Police raid Saint John marijuana dispensaries, again
Saint John police conducted raids Tuesday morning on four companies running marijuana dispensaries, halting business again about two months after the shops were raided a first time.
Sgt. Charles Breen issued a news release saying the raids were conducted by members of the Saint John Police Force, Kennebecasis Regional Police, and RCMP.
The raids happened at 10 a.m. and these dispensaries: BCW on Simpson Drive, HBB Medical Inc. on Chesley Drive, Medicinal Grounds on Rothesay Avenue, and King Canna on Germain Street.
HBB Medical Inc. and Medicinal Grounds each run two separate locations, but each company saw only one property raided by police.
King Canna was the first of the four companies with cannabis dispensaries to reopen, resuming business at its uptown location only a week later.
Saint John police conducted raids Tuesday morning on four companies running marijuana dispensaries, halting business again about two months after the shops were raided a first time.

@CBCNB: Police raid Saint John marijuana dispensaries, again:
Saint John police conducted raids Tuesday morning on four companies running marijuana dispensaries, halting business again about two months after the shops were raided a first time. 

Sgt. Charles Breen issued a news release saying the raids were conducted by members of the Saint John Police Force, Kennebecasis Regional Police, and RCMP.

"As a result of the searches a number of arrests were made and a quantity of marijuana products were seized," Breen said in the release.

The raids happened at 10 a.m. and these dispensaries: BCW on Simpson Drive, HBB Medical Inc. on Chesley Drive, Medicinal Grounds on Rothesay Avenue, and King Canna on Germain Street.

In January, six dispensaries scattered across the city were raided, and 12 people were charged.

HBB Medical Inc. and Medicinal Grounds each run two separate locations, but each company saw only one property raided by police.

King Canna was the first of the four companies with cannabis dispensaries to reopen, resuming business at its uptown location only a week later.

On Tuesday, police cruisers were outside the shop at approximately 11 a.m., and a woman could be seen being escorted into one car by police.

Customers approached the shop and tried the door, only to find it locked and walk away

One customer, who was passing by the shop and whose identity CBC News has agreed to protect, said the raids affect his life personally.

"This place was able to get me off several anti-seizure medications," he said. "As well as cervical spine injuries, medicine I take for that."

He said he visits the shop every two weeks and believes [the raid] is a waste of tax dollars.

"This is just ridiculous."