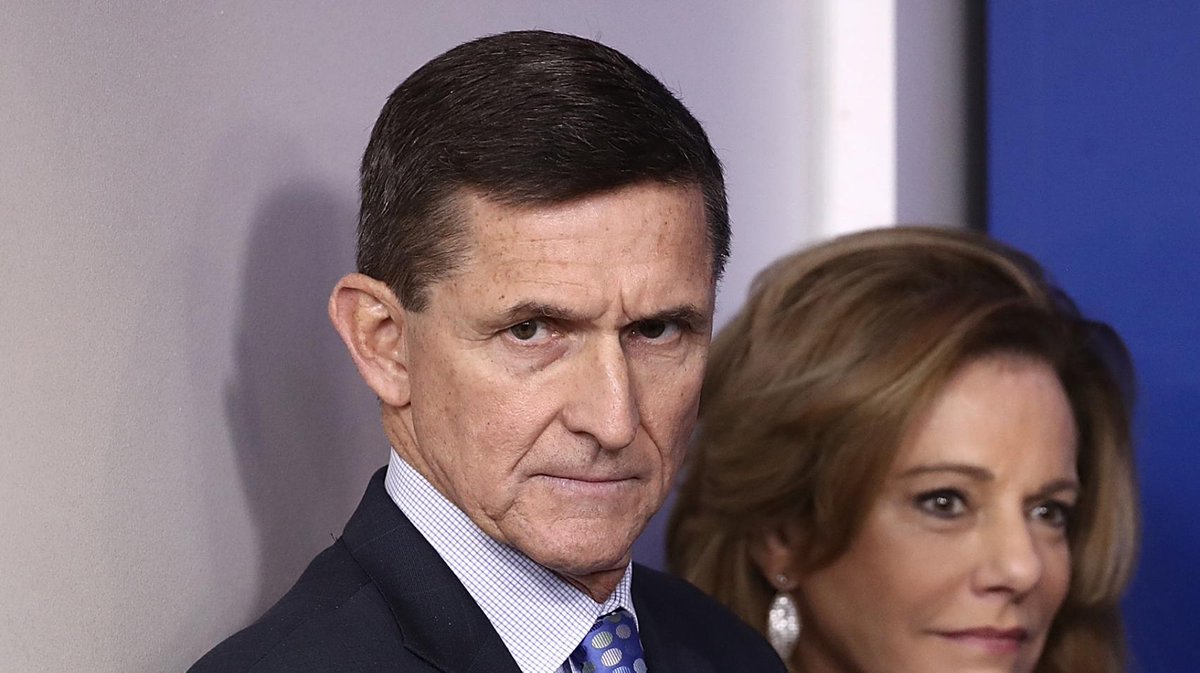 Mike Flynn Is Willing to Testify in Exchange for Immunity, Report Says
On Thursday evening, the Wall Street Journal, citing "officials with knowledge of the matter," reported that former National Security Adviser Mike Flynn has offered to be interviewed by the House and Senate intelligence committees, as well as the FBI, in exchange for immunity from prosecution—though immunity from what remains unclear.
Flynn's brief tenure in the Trump administration came to an abrupt end last month, when it was revealed by the Washington Post that the retired general had discussed sanctions with Russian Ambassador Sergey Kislyak despite telling the public and other administration and law enforcement officials that he had not.
Flynn was also facing scrutiny because he accepted tens of thousands of dollars from the Russian government through RT, a state-funded media outlet, and other companies.
White House officials are required to disclose sources of foreign income while applying for security clearances; Democrats have challenged that Flynn did so.
Flynn also reportedly talked to Turkish officials before the election about sending Fethullah Gulen, an opponent of Turkish leader Recep Tayyip Erdogan who lives in the US, back to Turkey.
It's not clear what information he has or what crime he's worried about being charged with.

@VICE: Mike Flynn Is Willing to Testify in Exchange for Immunity, Report Says
On Thursday evening, the Wall Street Journal, citing "officials with knowledge of the matter," reported that former National Security Adviser Mike Flynn has offered to be interviewed by the House and Senate intelligence committees, as well as the FBI, in exchange for immunity from prosecution—though immunity from what remains unclear. 

Flynn's brief tenure in the Trump administration came to an abrupt end last month, when it was revealed by the Washington Post that the retired general had discussed sanctions with Russian Ambassador Sergey Kislyak despite telling the public and other administration and law enforcement officials that he had not. Some speculated almost immediately that Flynn could be prosecuted either for lying to the FBI about those communications or for conducting diplomacy as a private citizen (which might have been a violation of an obscure law called the Logan Act). But the FBI was not expected to bring charges against him for those things. 

Flynn was also facing scrutiny because he accepted tens of thousands of dollars from the Russian government through RT, a state-funded media outlet, and other companies. His connection to Russia was especially scrutinized because the government in Moscow interfered in the 2016 election by hacking and leaking damaging emails from Democrats in an effort to help Donald Trump win, according to US intelligence agencies. That interference is under investigation by the House and Senate intelligence committees, as well as the FBI. The central question remains whether anyone connected to Trump—or Trump himself—was aware of these Russian efforts or communicated with the Russians about them.

Trump has praised Russian President Vladimir Putin and indicated that he would be open to working with Russia on some issues, though the sanctions that former President Barack Obama placed on Russia in response to the hacking remain in effect. (Those were the same sanctions Flynn talked about with Kislyak.) 

After being forced to resign from his post, Flynn filed paperwork indicating he had been a "foreign agent"—a.k.a. a paid lobbyist—for the Turkish government. (For instance, he wrote a November op-ed for the Hill titled, "Our ally Turkey is in crisis and needs our support.") White House officials are required to disclose sources of foreign income while applying for security clearances; Democrats have challenged that Flynn did so. Flynn also reportedly talked to Turkish officials before the election about sending Fethullah Gulen, an opponent of Turkish leader Recep Tayyip Erdogan who lives in the US, back to Turkey. 

Flynn's lawyer declined to comment to the Wall Street Journal about any offers of testimony, but the lawyer released a statement denouncing the "unfounded allegations, outrageous claims of treason, and vicious innuendo" swirling around him: 

Flynn has not been charged with any crime, so it's unclear what he would be seeking immunity from. Importantly, none of the US officials he has apparently reached out to in hopes of striking a deal have accepted his offer. Other important questions that remain include:
Mike Flynn Is Willing to Testify in Exchange for Immunity, Report Says