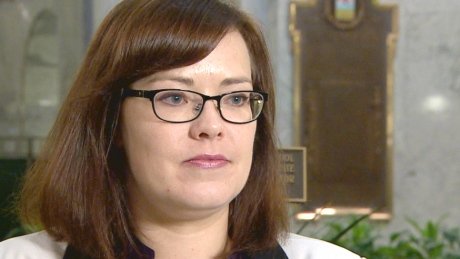 Kathleen Ganley says marijuana wasn't 'cash cow' for Colorado
MORE ALBERTA NEWS | Alberta judges ordered 4-year-old not to wear girls' clothes in public
Marijuana wasn't 'cash cow' for Colorado, Alberta minister learns audio
Alberta's justice minister says marijuana has not been a "cash cow" for Colorado, but neither has it led to widespread criminal activity.
MORE ALBERTA NEWS | Changes to bail hearings begin in Alberta 2 years after RCMP officer killed
Kathleen Ganley says marijuana wasn't 'cash cow' for Colorado
Alberta's justice minister says marijuana has not been a 'cash cow' for Colorado, but neither has it led to widespread criminal activity. Kathleen Ganley travelled to Colorado late last week to talk to officials about how they dealt with the legalization of marijuana in their state.

@CBCCalgary: Marijuana wasn't 'cash cow' for Colorado, Alberta minister learns
Alberta's justice minister says marijuana has not been a "cash cow" for Colorado, but neither has it led to widespread criminal activity.

Kathleen Ganley travelled to Colorado late last week to talk to U.S. officials about how they dealt with the legalization of marijuana in their state.

The priority for the province, Ganley says, is to get a regulatory framework in place to ensure that pot stays out of the hands of children, and that our roadways remain safe from impaired drivers.

The federal Liberals intend to legalize pot in the spring of 2017, and provinces are scrambling to prepare for the change.

"It really did highlight the number of different systems that have to move together on this," Ganley said, citing heath, justice, fire safety, zoning, and regulation of the plants themselves.

However, she said Colorado didn't experience any of the "dramatic" changes that many were predicting back when the U.S. state legalized cannabis in January 2014.

"It didn't solve all of the problems or become a cash cow the way some of the proponents would suggest," she said. "But it also didn't result in some massive upswing in criminal behaviour the way some detractors suggest," she added.

Tax revenues raised were sufficient to cover the cost of enforcement, she said, with some money left over to cover smaller projects at a municipal level.

Ganley said the much-cited statistic about impaired driving cases doubling is overblown.

"The number of those impaired charges based on marijuana [compared to] alcohol are so miniscule … that it's not having that huge an impact," Ganley told The Homestretch on Monday afternoon.

Ganley travelled to Colorado on Thursday with one staff member. The cost of the three-day trip is estimated at just over $4,000.
Kathleen Ganley says marijuana wasn't 'cash cow' for Colorado