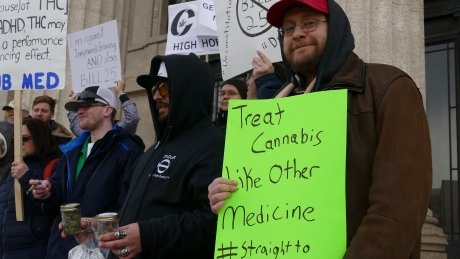 Manitoba pot bill a 'slap in the face' to medical marijuana users, protesters say
Around a dozen people met on the stairs of the Manitoba Legislature on Saturday to protest a new bill proposed by the provincial government that would change the rules on cannabis.
The bill has been criticized by experts and the Manitoba NDP for not consulting with medical marijuana users in the province.
"The lack of consultation with medical marijuana patients is uncalled for, and is frankly a slap in the face towards the idea of patient care in Manitoba," Stairs said.
Earlier this week, she told CBC News the bill will keep impaired drivers off the road when that happens.
Kristen Aldrich said she's concerned the bill doesn't distinguish between medical and recreational marijuana use, and could hurt people who rely on the former.
Around a dozen people met on the stairs of the Manitoba Legislature on Saturday to protest a new bill proposed by the provincial government that would change the rules on cannabis.

@CBCManitoba: Manitoba pot bill a 'slap in the face' to medical marijuana users, protesters say
Around a dozen people met on the stairs of the Manitoba Legislature on Saturday to protest a new bill proposed by the provincial government that would change the rules on cannabis.

Bill 25, the Cannabis Harm Prevention Act, was introduced on Monday. It would put restrictions on cannabis similar to those on alcohol, banning people from consuming it in a vehicle and giving police the right to suspend a driver's licence for 24 hours if they thought the person was under the influence of the drug.

The bill has been criticized by experts and the Manitoba NDP for not consulting with medical marijuana users in the province. Protester Steven Stairs said that was his issue with the legislation, too.

"The lack of consultation with medical marijuana patients is uncalled for, and is frankly a slap in the face towards the idea of patient care in Manitoba," Stairs said.

Justice Minister Heather Stefanson has said the legislation is intended as a "stop-gap" as the province waits for federal legislation legalizing marijuana in Canada. Earlier this week, she told CBC News the bill will keep impaired drivers off the road when that happens.

Kristen Aldrich said she's concerned the bill doesn't distinguish between medical and recreational marijuana use, and could hurt people who rely on the former.

"If we are going to make laws that impact our community then we deserve to be consulted," she said.

"When you're on your medication you're not impaired, and that's the main message of today," she added. "You're impaired when you're not properly taking your medication."
Manitoba pot bill a 'slap in the face' to medical marijuana users, protesters say