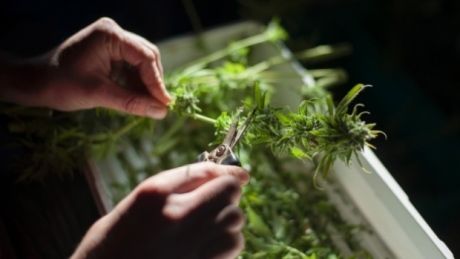 Legalizing marijuana will hurt Canadian alcohol sales, study predicts
The legalization of marijuana may cut into beer and other alcohol sales across Canada, a study by the firm Deloitte says.
Some of the study's findings show that about 80 per cent of current cannabis consumers rarely mix the drug with alcohol and they're also drawn to marijuana for the same reason people choose alcohol: to have fun or help connect with others.
Matthew Bellamy, associate professor of history at Carleton University and a brewing historian, believes Canadian beer sales will fall after the legalization of weed.
"Like its counterpart south of the border, Canadian brewing emerged as a significant industry between 1865 and 1915; went through the dark years of prohibition from about 1915 to 1930; experienced a renaissance between 1930 and 1945; witnessed the emergence of a national brewing oligopoly after the Second World War; saw the onset of a craft beer revolution in the early 1980s; and underwent significant restructuring since 1990 due to globalization."
Justin Zinck of Garrison Brewery in Halifax says the legalization of marijuana is certainly on their radar, but argues the decline in sales in the U.S. is limited to beer sold in retail establishments, not to bars and restaurants.
The legalization of marijuana may cut into beer and other alcohol sales across Canada, a study by the firm Deloitte says.

@CBCNS: Legalizing marijuana will hurt Canadian alcohol sales, study predicts
The legalization of marijuana may cut into beer and other alcohol sales across Canada, a study by the firm Deloitte says.

"If marijuana is legalized in Canada, we will see a decrease in purchases of beer, wine or spirits. So that's something that the alcohol industry is going to have to understand and think about and try to anticipate what that means," said Mark Whitmore, who co-authored the study on recreational marijuana.

Some of the study's findings show that about 80 per cent of current cannabis consumers rarely mix the drug with alcohol and they're also drawn to marijuana for the same reason people choose alcohol: to have fun or help connect with others.

Recent reports show domestic beer sales fell in Colorado, Washington and Oregon after pot was legalized, with sales of Coors Light and Bud Light dipping as much as 4.4 per cent.

Matthew Bellamy, associate professor of history at Carleton University and a brewing historian, believes Canadian beer sales will fall after the legalization of weed. 

"The Canadian brewing industry has passed through many of the same phases in its evolution as the industry in the United States," he said.

"Like its counterpart south of the border, Canadian brewing emerged as a significant industry between 1865 and 1915; went through the dark years of prohibition from about 1915 to 1930; experienced a renaissance between 1930 and 1945; witnessed the emergence of a national brewing oligopoly after the Second World War; saw the onset of a craft beer revolution in the early 1980s; and underwent significant restructuring since 1990 due to globalization." 

Justin Zinck of Garrison Brewery in Halifax says the legalization of marijuana is certainly on their radar, but argues the decline in sales in the U.S. is limited to beer sold in retail establishments, not to bars and restaurants.

Zinck said they have to be ready for the day when consumers will have a choice of spending their money on alcohol or pot.

Garrison has been in the craft beer business for 20 years and Zinck says they plan to stay the course and advertise quality over quantity to maintain their hold on the craft beer market.

"You're trying different things; the marketplace is the market. It's our job to make sure that we're the best craft brewery we can be and market ourselves the best way we can and make people enjoy our product the best," he said.

"So it's our job to realize there's a new player in the game, we have to up ours as well. Just like if there was a new craft brewery coming along, we have to up our game."
Legalizing marijuana will hurt Canadian alcohol sales, study predicts