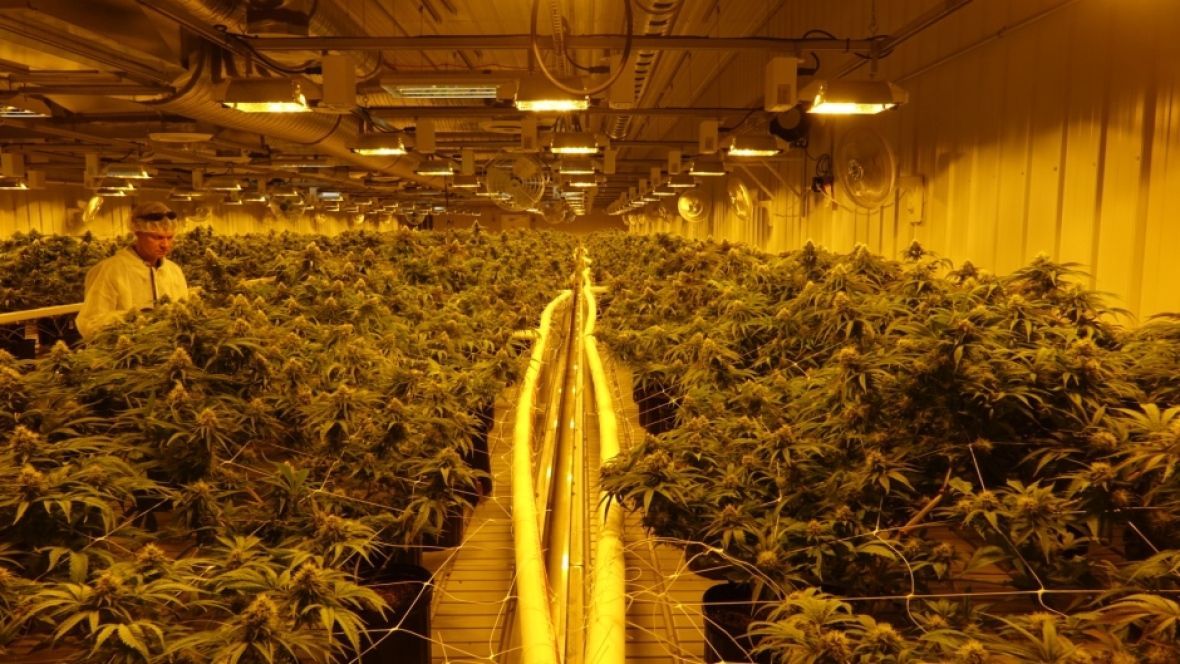 Legalization promise 'good news' for massive Edmonton marijuana operation
Construction of the world's largest pot growing operation, on the edge of the Edmonton International Airport grounds, will help the company behind it  take advantage of a budding new industry: legalized marijuana.
Aurora Cannabis is building an 800,000-square-foot production facility in Leduc County, capable of growing 100,000 kilograms of high quality marijuana per year.
Aurora has developed smartphone applications that allow its medical marijuana customers to make their orders online, and get deliveries within a matter of hours.
The company has already launched same-day delivery to Edmonton and Calgary and medical-marijuana customers are "loving it," said Battley.
The company says its Edmonton facility, named "Aurora Sky," will be the largest, most advanced and most automated cannabis production facility in the world.
Construction of the world's largest pot growing operation, on the edge of the Edmonton International Airport, will help the company take advantage of a budding new industry.

@CBCTheNational: Legalization promise 'good news' for massive Alberta marijuana operation
Construction of the world's largest pot growing operation, on the edge of the Edmonton International Airport grounds, will help the company behind it  take advantage of a budding new industry: legalized marijuana. 

Aurora Cannabis is building an 800,000-square-foot production facility in Leduc County, capable of growing 100,000 kilograms of high quality marijuana per year.

It's currently sanctioned as a medical-marijuana growing operation, but the company's business plan is about to change.

The Liberal government will announce legislation next month that will legalize marijuana in Canada by July 1, 2018, CBC News has learned. 

"This is exactly what we anticipated, and it's good news for Aurora," Cam Battley executive vice-president of Aurora Cannabis, said Monday.

"This is something that we planned on and that's why we started construction on this enormous facility.

"This will give us enormous, high quality capacity to serve the Canadian medical market and ultimately the Canadian consumer market." 

Under the new legislation, the federal government will be in charge of making sure the country's marijuana supply is safe and secure. Ottawa will license producers.

However,  the provinces will have the right to decide how the marijuana is distributed and sold. Provincial governments will also have the right to set prices.

Aurora has been anticipating the announcement, which Battley believes will have a "substantial impact on investment, employment and economic development" within the sector. 

He expects the existing mail-order system for medical marijuana in Alberta will be expanded to serve the recreational consumer market. He said the company is well poised for the change. 

"The intention here is to offer our clients the same level and quality of service as retail giants like Amazon.com," said Battley. "Being located by the airport, we're right beside the courier services so this will allow us to greatly expand our same-day and next-day delivery services."

Aurora has developed smartphone applications that allow its medical marijuana customers to make their orders online, and get deliveries within a matter of hours.

The company has already launched same-day delivery to Edmonton and Calgary and medical-marijuana customers are "loving it," said Battley.

"It's been really, really popular," Battley said. "We're the only licensed producer under Health Canada that does same-day delivery in two major metropolitan centres.

"In 20 or 30 seconds of tapping you can make an order, and if you do that in the morning in Alberta, it can be delivered to your home by dinner time. It's really something."

The company says its Edmonton facility, named "Aurora Sky," will be the largest, most advanced and most automated cannabis production facility in the world.

Larger than 16 football fields, it will make Aurora's current facility in Cremona look small by comparison. That 55,200-square-foot facility in Mountain View County, near Calgary, produces 5,500 kilograms of marijuana each year.

Construction of the Edmonton facility's pre-engineered structure is now underway in the Netherlands.

The company anticipates the greenhouse facility to be completed by October 2017, and expect to employ up to 300 people once fully operational.

It is also exploring a new partnership which would mean the addition of an on-site research lab focused on the extraction of cannabinoids, the active chemical compounds in cannabis, including THC.

"It will have multiple impacts and they'll all be positive," said Battley. "We're an Alberta-grown success story and that's always going to be our first priority."
Legalization promise 'good news' for massive Edmonton marijuana operation