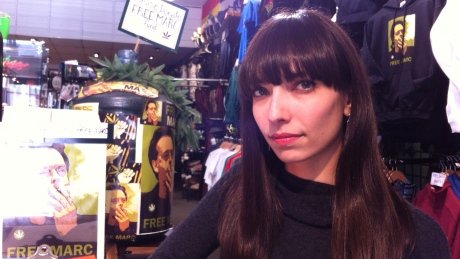 Jodie Emery's Toronto pot shop sells to recreational and medical users
Emery told CBC Radio's Metro Morning Tuesday. "
"If the law is unjust, we are demonstrating it's unjust, that is the point of civil disobedience," said Emery. "
"Parents send their kids to corner stores to buy candy where cigarettes are sold," said Emery.
"I'm begging, begging Toronto police not to," Emery said when asked about a potential raid of her shop. "
Emery, the wife of activist Marc Emery, also helps run Cannabis Culture magazine and says the stores are an extension of that brand.
Read the full article, click here.
---
@CBCToronto: "Jodie Emery backs Toronto marijuana dispensary after major police raids"
---
Like marijuana dispensary whack-a-mole, a new pot shop opened up on Queen Street West just as Toronto police were raiding 43 other businesses last week. This one counts outspoken marijuana activist Jodie Emery as an investor.
---
Jodie Emery's Toronto pot shop sells to recreational and medical users