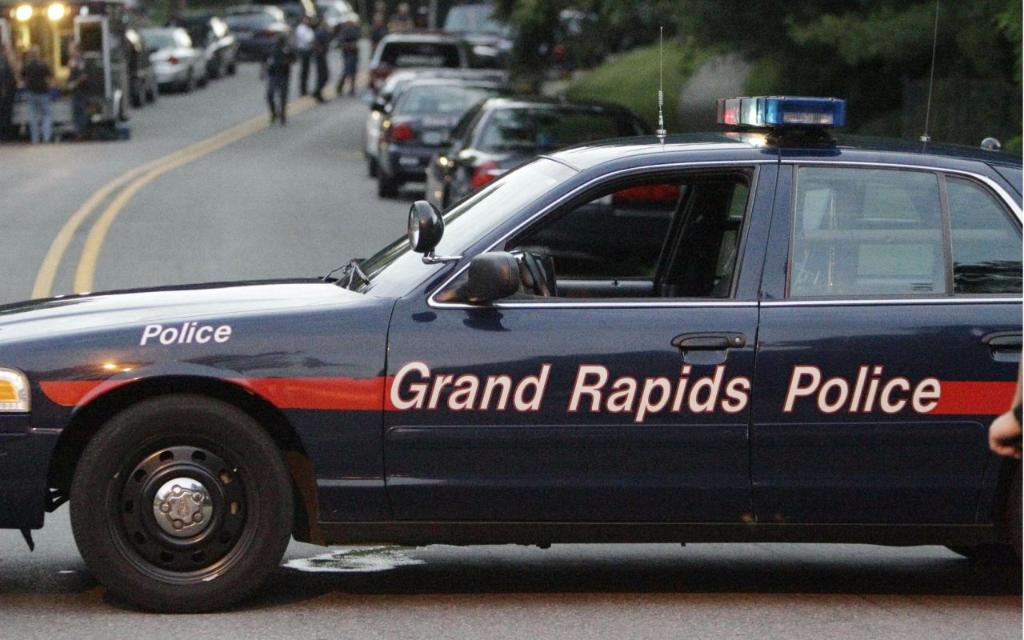 Grand Rapids, Michigan, Just Raided Every Dispensary in Town
Michigan Relief Hub has been boarded up with a sign that says the dispensary is now permanently closed.
Johnson said of Sue Bond and her dispensary, "but she refuses to comply."
With little warning, seven medical cannabis dispensaries in and around Grand Rapids, Michigan, were raided by law enforcement teams last week.
A news release from the Kent County Sheriff's Department stated that the dispensaries were previously investigated and given verbal and written warnings.
Michigan passed its medical marijuana law in 2008, but the law remained murky, without clear definition as to whether dispensaries are legal.
Grand Rapids police conducted raids on every dispensary operating in the area. Leafly investigates why the raids occurred.

@LeaflyNews: In Grand Rapids, #Michigan, police have raided every dispensary in town. #cannabis
With little warning, seven medical cannabis dispensaries in and around Grand Rapids, Michigan, were raided by law enforcement teams last week.

The Kent County Sheriff's Department, which covers the Grand Rapids region, released a list of the locations that were raided and shut down:

Law enforcement officials seized cash and cannabis products that were in the shop at the time of the raids, resulting in a significant financial loss for the dispensaries.

The Kent County Area Narcotics Enforcement Team claimed that the raided dispensaries were conducting illegal sales. "We have found evidence that these dispensaries continue to operate illegally even in violation of the newly passed Michigan House bills (MMFLA)," read the statement from police.

Michigan passed its medical marijuana law in 2008, but the law remained murky, without clear definition as to whether dispensaries are legal. The law also left the legality of other cannabis products, like edibles and concentrates, uncertain.

In September, Gov. Rick Snyder signed several laws (known collectively as the MMFLA) to create a framework for legal medical cannabis dispensaries. The state will now require an operating license to grow, process, sell, transport and test cannabis. The new laws also legalize the use of infused cannabis products, such as edibles and topicals, and imposes a three percent tax on the gross retail income of a cannabis business.

These bills were designed specifically to protect medical cannabis companies and dispensaries, which have been operating in a legal gray area. However, those new laws won't go into effect until late December. It remains unclear whether the "illegality" of the raided dispensaries resides in the fact that they're operating a few weeks prior to the new law kicking in.

Although there were initial reports that Drug Enforcement Administration officials were involved in the raids, Sgt. Johnson denied those reports. He told Leafly that the entire operation was conducted by local authorities with the Kent Area Narcotics Enforcement Team, and has nothing to do with the DEA.

There have been reports that dispensary owners were warned to cease and desist or expect a raid. A news release from the Kent County Sheriff's Department stated that the dispensaries were previously investigated and given verbal and written warnings.

Steven Mathew, owner of The Third Day dispensary, one of the top-rated dispensaries in Michigan, contested that claim. "We went to the DEA, we went to Plainfield Township, and we told them we were opening a shop," Mathew told Leafly. "They kind of shook their head no, but said yes at the same time."

Kent County Sgt. E.J. Johnson largely agreed with Mathew's version of events. Johnson said the owners of Third Day approached Plainfield Township and told them of their newly opened dispensary, and received his warning. "We advised him, what you're doing is illegal and if we get enough complaints, we will have to act on them." Mathew and his uncle, Rick Cope, opened the Third Day dispensary in July of this year and had been in continuous operation ever since.

The only real warning came in the form of raids on a nearby dispensary, The Provision Center, now known as the Michigan Relief Hub, owned by Sue Bond. "We raided her dispensary twice in Kentwood and again last November," said Sgt. Johnson.

"She was raided, week after week, so that was her warning," Steven Mathew told Leafly. "We never had any warning."

"She was warned a number of times," Sgt. Johnson said of Sue Bond and her dispensary, "but she refuses to comply."

A paralegal with a background in cannabis law, Sue Bond owns Michigan Relief Hub in Grand Rapids, and was in the process of opening a new medical cannabis operation in Florida. In fact, she was in Florida doing reconnaissance for her new business last week when the raids occurred. Law enforcement officials called her and convinced her to fly back to Michigan, where she was arrested at the Gerald R. Ford International Airport.

According to Sgt. Johnson, Sue Bond is now facing up to seven felony charges, each of which carry a 20-year sentence. But, says Sgt. Johnson, "It has nothing to do with the drug." Rather, the charges are all related to illegal finances – specifically, racketeering and money laundering, among others.

Michigan Relief Hub has been boarded up with a sign that says the dispensary is now permanently closed. Sue Bond has been released from jail on bond and is currently awaiting trial, but has thus far, been unavailable for comment.

Steven Mathew told Leafly that he and his uncle are planning to reopen The Third Day dispensary as soon as possible, despite the loss of cash and product confiscated by the police.

"My uncle is having a meeting with Plainfield Township," Mathew said. "He's going to sit down with them and see if we can work out some kind of written agreement. We understand they had to do it this way, but we want to continue on the right path."

Protesters gathered outside the Plainfield Township Hall on Friday to protest the raids. That city's township board has not taken action for or against medical marijuana since 2011, when the board voted to ban dispensaries.

"The police officers even told us that they had a hard time getting a warrant because we were doing things up to par," said Third Day owner Mathew. "It was basically, if one person is getting in trouble, we're all getting in trouble."

Curiously, Third Day was robbed the night before the raid, but no cash or cannabis was taken. Instead, the thieves seized the store's tablet computers, toilet paper, paper towels, and, incidentally, some Star Wars memorabilia.

Although Mathew has his suspicions that the robbery was related to the raid, the loss of revenue and product from the police action is a much harder blow to recover from. "Right now, we're just trying to figure out why it happened and then we're going to move on. And," he added, "open back up as soon as possible."

Sgt. Johnson remains hopeful that the dispensaries will be able to open in a legal, compliant manner once the new state regulations take effect. "We've been under a lot of pressure and received a lot of tips, from observers, and upset former employees, from businesses and citizens," he said. "It needs to stop unless they start obeying the law."

"We're not picking on them," he said of the closed dispensaries. "We've been forced to do it. We have enough issues with heroin and cocaine on the streets and kids overdosing. Hopefully, they'll start doing things right and operating lawfully."
Grand Rapids, Michigan, Just Raided Every Dispensary in Town