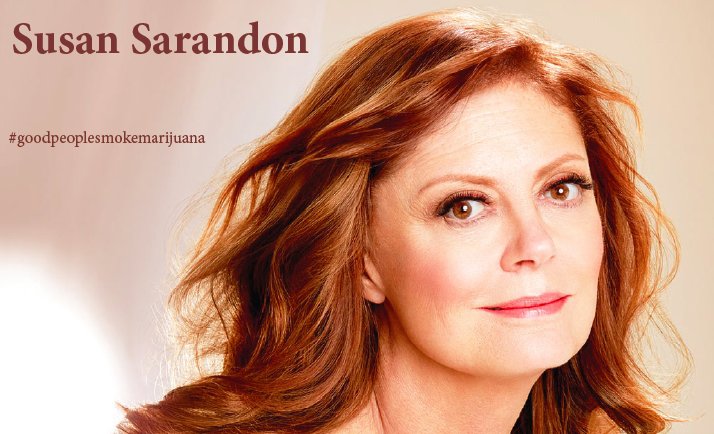 Marijuana (289) Medical Marijuana (125) Colorado (108) Marijuana Legalization (80) Willie Nelson (68) Tommy Chong (62) Snoop Dogg (50) NFL (49) Weed (47) Denver (39)
Medical marijuana, but the rest will come."
Sarandon parties onscreen in The Witches of Eastwick (1987) and The Banger Sisters (2002), and in Stepmom with Julie Roberts, she uses medical marijuana for cancer.
In film and in life, Sarandon has made great strides for drug law reform, one of the many issues she's tackled.
The only thing political about ( Light Sleeper ) is that usually in the films and news, drugs are always connected with people of color.
Actress Susan Sarandon is exquisite living proof that a person can be beautiful, talented, intelligent, passionate, dedicated…and smoke pot. She's our newest Top CelebStoner.

@tokinwoman: #GoodPeopleSmokeMarijuana @CelebStoner
Susan Sarandon is exquisite living proof that a person can be beautiful, talented, intelligent, passionate, dedicated…and smoke pot.

The doe-eyed actress with a perfect figure, sultry voice and a brain that won't quit was chosen to represent the U.S carrying in a flag along with Sophia Loren and six other women at the 2006 Turin Winter Olympics. It was a testament to her prominence, not only in her craft but as an activist and full participant in our democracy.

According to her interview on The Actor's Studio, the Queens, New York native, born on Oct. 4, 1946, wasn't interested in acting, but her first husband Chris Sarandon put her up to an audition. A long and interesting career ensued, starting with films like Joe (1970) where she played a drug dealer's girlfriend, and the campy Rocky Horror Picture Show (1975) where the crowd, like a group of vipers, hissed "Janet Weiss, very nice" whenever she appeared. Men love her for her lemon baths in Atlantic City (1980) and women for her empowering performance in Thelma and Louise (1991). She won a Best Actress Oscar for portraying Helen Prejean, a nun who advocated for death-row inmates, in Dead Man Walking (1995).

In film and in life, Sarandon has made great strides for drug law reform, one of the many issues she's tackled. She smokes pot, alone and with co-star Kevin Costner, in Bull Durham (1988), where she plays a philosophical baseball junkie. "This world is made for those who aren't cursed with self-awareness," she wisely concludes. Sarandon parties onscreen in The Witches of Eastwick (1987) and The Banger Sisters (2002), and in Stepmom with Julie Roberts, she uses medical marijuana for cancer.

About Light Sleeper (1992), where she plays a cocaine dealer, Sarandon told the Los Angeles Times, "Cocaine didn't interest me. Not at all. I'm way way back in the early pot, and mushrooms, organic, not all these chemical things that split you and do horrible things. They're too antisocial… The only thing political about (Light Sleeper) is that usually in the films and news, drugs are always connected with people of color. You never see rich, white, upwardly mobile people. In this movie, that's who I, the drug queen, sell to."

Sarandon and her then-partner Tim Robbins (with whom she has two sons, Jack and Miles) spoke at the 2000 Shadow Convention in Los Angeles, an event organized by Arianna Huffington that highlighted the drug war as one of the injustices that weren't being addressed at the conventional Convention down the street. At her induction into the New Jersey Hall of Fame in 2010 (she was raised in the Garden State), Sarandon noted that New Jersey was the first state to ratify the Bill of Rights and does not have the death penalty. "We've legalized marijuana recently," she added. "Medical marijuana, but the rest will come." She serves on the advisory board of the Marijuana Policy Project.

Recently in AARP magazine, Sarandon said, "I would much rather my kids smoke weed than drink, except that it's illegal." Andy Cohen of Bravo's Watch What Happens Live! also got her talking about marijuana when she admitted she likes to get stoned before attending awards shows, "except for the Oscars."

The torch has been passed to a new generation: Eva Amurri Martino, Sarandon's daughter with Italian film director Franco Amurri, appeared in Middle of Nowhere (2008), in which she drives a pot dealer around one summer to make money for college. The scene where he justifies his career choice is one of the most cogent arguments for legalization ever filmed.

Sarandon has also appeared in King of the Gypsies, Pretty Baby, The Hunger, A Dry White Season, Bob Roberts, Cradle Will Rock, Igby Goes Down, Leaves of Grass, Wall Street: Money Never Sleeps, Jeff Who Lives at Home, The Company You Keep, Cloud Atlas, and Ping Pong Summer. She plays a hard-drinking grandma opposite Melissa McCarthy in the upcoming Tammy.

"I am definitely somebody who, at a party, sits on the side and has a long conversation with two people," Sarandon recently told the New York Times. "I'm not drinker, I'm more of a stoner."