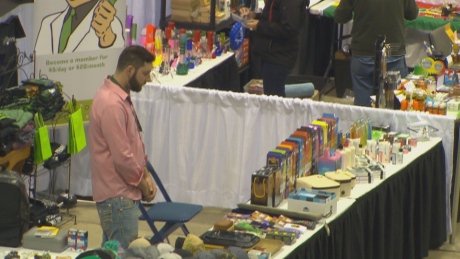 First cannabis convention show works to dispel fears, answer questions
One of the organizers of a cannabis convention being held at the Moncton Coliseum says it's hoped that it will help educate anyone with questions about medical marijuana use.
"We really wanted an atmosphere where people could feel comfortable asking questions, getting the right information," said Diane Smirl.
The Connect with Cannabis Show is the first one to take place, but Smirl says the plan is to take it across Canada.
"It's nice to dispel people's fears and give people useful, valuable information that they can go then to their doctor with."
Anne Newcomb-Thibodeau said she came to the show looking for answers after she recently switched to medical marijuana to treat her chronic pain.
A convention being held at the Moncton Coliseum is meant to educate anyone with questions about medical marijuana use.

@CBCNB: First cannabis convention show works to dispel fears, answer questions:
One of the organizers of a cannabis convention being held at the Moncton Coliseum says it's hoped that it will help educate anyone with questions about medical marijuana use.

"We really wanted an atmosphere where people could feel comfortable asking questions, getting the right information," said Diane Smirl. "We developed this show specifically for those people." 

The Connect with Cannabis Show is the first one to take place, but Smirl says the plan is to take it across Canada.

She said it's time to bring the conversation about cannabis out of the back alleys, now that the federal government has a plan to legalize it.

"This is a room full of experts regardless where they're from, these are all licensed users, they've been through the process."

Chris Backer, vice chair of the Halifax-based Maritimers United for Medical Marijuana, is one of the vendors.    

"It's nice to dispel people's fears and give people useful, valuable information that they can go then to their doctor with." 

Backer said being able to educate people in a convention setting is a positive step.

"We have an opportunity to learn about it properly." 

Smirl said while some booths feature novelty items like pipes and bongs, others have information to share. 

"Anything that can be sold in a retail location that's legally licensed can be sold here. Anything that's not licensed for retail won't be sold here."

Anne Newcomb-Thibodeau said she came to the show looking for answers after she recently switched to medical marijuana to treat her chronic pain.

Despite it being prescribed by her doctor, Newcomb-Thibodeau said she still didn't know much about it but was finding the show beneficial.

"If you're new to it, where do you go to get your answers?" she asked. 

'They've known about the problem for many years': Another spring of flooding on Darlings Island
First cannabis convention show works to dispel fears, answer questions