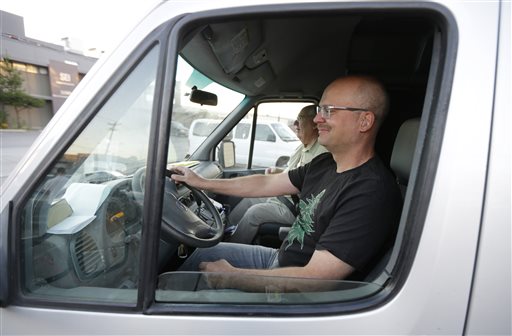 Eaze accelerating marijuana delivery tech with $27 million investment
Published: Sep 14, 2017, 12:40 pm • Updated: Sep 14, 2017, 6:01 pm By Alicia Wallace, The Cannabist Staff A tech company focused on cannabis delivery is going full-throttle in California.
Eaze, a San Francisco-based firm that developed software to facilitate marijuana delivery sales, hauled in $27 million in investment capital, officials for the company announced Thursday.
Related: California becoming a real hot spot for marijuana delivery, e-commerce
The financial boost for Eaze comes as California hashes out new medical and recreational marijuana laws, including giving the green light earlier this year for cannabis delivery to potentially grow throughout the state.
Eaze officials say their firm has recorded 300 percent year-over-year growth in gross sales and facilitates 120,000 deliveries per month.
Alicia Wallace joined The Cannabist in July 2016, covering national marijuana policy and business.
Eaze, a San Francisco-based firm that developed software to facilitate marijuana delivery sales, has hauled in $27 million in investment capital.

@cannabist: Eaze accelerating marijuana delivery tech with $27 million investment
Published: Sep 14, 2017, 12:40 pm • Updated: Sep 14, 2017, 6:01 pm

A tech company focused on cannabis delivery is going full-throttle in California.

Eaze, a San Francisco-based firm that developed software to facilitate marijuana delivery sales, hauled in $27 million in investment capital, officials for the company announced Thursday.

Related: California becoming a real hot spot for marijuana delivery, e-commerce

The financial boost for Eaze comes as California hashes out new medical and recreational marijuana laws, including giving the green light earlier this year for cannabis delivery to potentially grow throughout the state.

"With the legalization of adult use marijuana on the horizon, we look forward to using our data, technology and platform to continue to serve our mission of providing safe, secure access to marijuana products at the lowest prices with the utmost convenience," Jim Patterson, Eaze's chief executive officer, said in a statement.

The latest investment was led by Bailey Capital and included participation from existing investors DCM Ventures and FJ Labs. Kaya Ventures also participated in the round.

Eaze has raised about $52 million since its founding in 2014, officials said.

Eaze officials say their firm has recorded 300 percent year-over-year growth in gross sales and facilitates 120,000 deliveries per month.

The privately held firm did not disclose additional financial details including total revenue.

Alicia Wallace joined The Cannabist in July 2016, covering national marijuana policy and business. In her 14 years as a business news reporter, her coverage has spanned topics such as the economy, natural foods, airlines, biotech, retail,…
Eaze accelerating marijuana delivery tech with $27 million investment