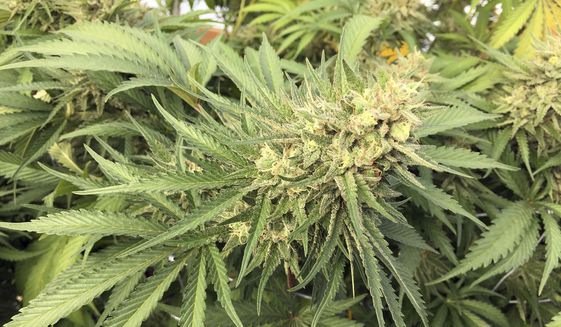 D.C. Council votes to allow medical marijuana users from elsewhere to buy in city
As of Oct. 1, the District has five dispensaries supplying pot products to the city's 4,283 medical marijuana card holders – less than 1 percent of the city's 670,000 residents.
"Reciprocity can actually help reduce transfer of marijuana across state lines as patients are not forced to bring medical marijuana obtained in their home states with them when they travel," Ms. Boecker said.
"By allowing patients to purchase their medicine in the District, patients will no longer have to worry about violating federal law by transferring marijuana across state lines."
You can go to a pharmacy in all 50 states and access your medicine, so medical marijuana should be no different."
The law does not allow work for those with convictions for drugs other than marijuana.
The D.C. Council has approved a measure that would allow medical marijuana users from other jurisdictions to use their out-of-state registration cards to purchase cannabis in the District.

@THEMMEXCHANGE: D.C. Council votes to allow medical #marijuana users from elsewhere to buy in city
#MME
The D.C. Council has approved a measure that would allow medical marijuana users from other jurisdictions to use their out-of-state registration cards to purchase cannabis in the District.

The bill, which received unanimous support from the council on its final vote Tuesday, aims to make it easier for patients visiting the District to get the medicine they need, medical marijuana advocates say.

"Non-residents are not permitted to purchase medical marijuana under current law. This results in a complete barrier to access for non-residents that doesn't exist for other medication," a September committee report on the bill states.

As of Oct. 1, the District has five dispensaries supplying pot products to the city's 4,283 medical marijuana card holders — less than 1 percent of the city's 670,000 residents.

In comparison, nearly 2 percent of California's 39 million residents, 2 percent of Michigan's 10 million residents and almost 4 percent of Maine's 1.3 million residents carry medical marijuana cards.

Twenty-five states and the District have enacted medical marijuana legislation despite the federal government's ban on the drug.

Kaitlyn Boecker, a policy coordinator with the Drug Policy Alliance, said the city's reciprocity measure could decrease the amount of pot transferred across state lines, which is still illegal under federal law.

"Reciprocity can actually help reduce transfer of marijuana across state lines as patients are not forced to bring medical marijuana obtained in their home states with them when they travel," Ms. Boecker said. "By allowing patients to purchase their medicine in the District, patients will no longer have to worry about violating federal law by transferring marijuana across state lines."

According to the D.C. chief financial officer, the city's marijuana reciprocity program would cost about $1.4 million to implement over four years.

With passage of the Medical Marijuana Reciprocity Amendment Act, the District joins Michigan, Nevada, New Hampshire, Rhode Island, Arizona and Maine in allowing some level of reciprocity for out-of-state registered medical marijuana users.

"These jurisdictions have demonstrated that medical marijuana reciprocity can be a viable option for patients from other jurisdiction," the committee report says.

Not all reciprocity is created equal, though. In Michigan, Nevada and New Hampshire, medical cannabis users can lawfully purchase pot with their out-of-state cards with no restrictions.

Rhode Island recognizes cards from other jurisdictions, but only for conditions that are approved for medical marijuana use in the Ocean State itself.

Arizona and Maine allow out-of-state card holders to possess marijuana but not purchase it at state-authorized dispensaries.

At a D.C. Council hearing last year, 23 witnesses testified in support of reciprocity. Dr. Malik Burnett, a physician at the Johns Hopkins University School of Medicine, echoed the committee report's call for equal access to medication.

"Individuals come and temporarily reside in the District to interact with the federal government and other various agencies," Dr. Burnett said. "It's important that they're able to come in and access their medicine. You can go to a pharmacy in all 50 states and access your medicine, so medical marijuana should be no different."

Robert Cappechi of the Marijuana Policy Project said seriously ill people who frequently cross D.C. boundaries need to be able to have their medicine available as they travel.

"Allowing qualified medical marijuana patients from other jurisdictions not only benefits the individual patient's health while they are away from home, but also shines a positive light on the welcoming nature of our capital city," Mr. Cappechi said.

Some conservative states' rights groups also have applauded the measure.

"The lesson here is pretty straightforward. When enough people say 'no' to the federal government and enough states pass laws backing those people up, there's not much the feds can do to shove their so-called laws, regulations or mandates down our throats," Michael Boldin, founder and executive director of the Tenth Amendment Center, wrote in a blog post.

The post goes on to say that as more states move to relax marijuana laws, the federal government's position will continue to weaken.

"The feds need state cooperation to fight the drug war, and that has rapidly evaporated in the last few years with state legalization, practically nullifying the ban," the blog post reads.

LaQuandra Nesbitt, director of the D.C. Department of Health, testified that the measure could help many visitors, but she cautioned that some people could take advantage of the program without proper oversight.

"We are pleased that the proposed legislation takes into consideration the 19 million people who travel to our city each year and recognizes our responsibility to safeguard their health while visiting the nation's capital," she said.

To address Ms. Nesbitt's fears, the bill includes a marijuana tracking system to monitor whether out-of-state patients are buying more than the legally allowed 2-ounce limit every 30 days.

The reciprocity measure also includes a provision that would allow those convicted of marijuana-related felonies to work at dispensaries in the District. Currently, no one with a felony drug conviction can work in dispensaries. The law does not allow work for those with convictions for drugs other than marijuana.

"As a city, we want to support our returning citizens' reintegration into the community," council member David Grosso, a vocal proponent of looser drug laws, said Tuesday. "This is about racial justice and repairing the harms of the war on drugs. The data shows starkly how the criminalization of marijuana and other drugs disproportionately affected African-American communities in D.C."

The Drug Policy Alliance's Ms. Boecker agreed that the measure would be good for those recovering from marijuana convictions.

"Currently, those with a felony conviction or a misdemeanor drug conviction are largely prohibited from employment in the District's medical marijuana industry. This is a great step forward for reparative justice in the District, and we are very excited," she said.

Copyright © 2016 The Washington Times, LLC. Click here for reprint permission.

blog comments powered by Disqus  

Click to Read More

Click to Hide
D.C. Council votes to allow medical marijuana users from elsewhere to buy in city