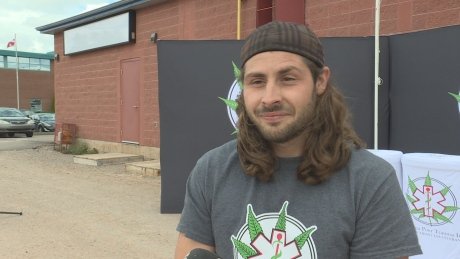 Cuts to medical marijuana coverage 'makes me sick,' says P.E.I. veteran
Dennis MacKenzie says the federal government's decision to reduce medicinal marijuana coverage for veterans takes away their "right to health."
"I was very proud to be where I was, but disgusted to be fighting," MacKenzie said on CBC's Mainstreet P.E.I.

New rules set by Ottawa will reduce the daily amount eligible for coverage from 10 grams to three.

MacKenzie said he marched Wednesday with a 79-year-old veteran who relies on his 10 grams of cannabidiol, or CBN.
The Veterans Affairs website says the maximum of three grams per day was based on current scientific evidence and consultations with veterans, stakeholders, licensed producers and medical experts.
Veterans Affairs says veterans can purchase additional grams per day through their provider, if authorized by a health-care practitioner.
Dennis MacKenzie says government's decision to reduce medicinal marijuana coverage for veterans takes away their "right to health."

@CBCPEI: Cuts to medical marijuana coverage 'makes me sick,' says P.E.I. veteran #pei
Dennis MacKenzie says the federal government's decision to reduce medicinal marijuana coverage for veterans takes away their "right to health."

The Charlottetown veteran and about a dozen other Islanders were among more than 100 people on Parliament Hill Thursday for the Marijuana for Trauma protest.

"I was very proud to be where I was, but disgusted to be fighting," MacKenzie said on CBC's Mainstreet P.E.I.

New rules set by Ottawa will reduce the daily amount eligible for coverage from 10 grams to three. The rules came into effect in November, but will apply to everyone who already had a prescription as of May 22.

"Cutting our medicine is putting us back at risk," said MacKenzie, who served in Afghanistan. 

MacKenzie said he marched Wednesday with a 79-year-old veteran who relies on his 10 grams of cannabidiol, or CBN.

"He takes his 10 grams a day, and he's on the golf course. Without it, he's in a wheelchair," MacKenzie said.

'It's so frustrating to even talk about. It just makes me sick. It's our right to health.' – Dennis MacKenzie, veteran and medical marijuana user

The Veterans Affairs website says the maximum of three grams per day was based on current scientific evidence and consultations with veterans, stakeholders, licensed producers and medical experts.

MacKenzie agrees there needs to be more research, but it shouldn't affect a system he says is already working.

"Don't take that system out of place while you're trying to figure your system out," he said.

Veterans Affairs says veterans can purchase additional grams per day through their provider, if authorized by a health-care practitioner.

But Marijuana for Trauma members are concerned about the wait times to get in to see health-care professionals to get authorization.

"You take any other medication and say you are going to reduce it on a person by 70 per cent, it would just never happen," MacKenzie said.

"It's so frustrating to even talk about. It just makes me sick. It's our right to health."
Cuts to medical marijuana coverage 'makes me sick,' says P.E.I. veteran