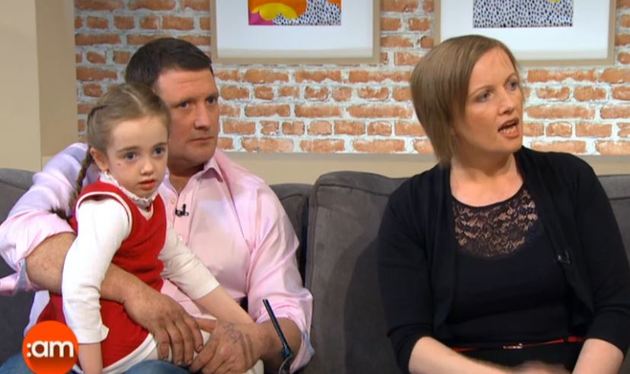 Cork to Dublin: Mum's walk sparks cannabis policy review plans
Mr Harris then announced plans to review the policy on medicinal cannabis.
But last month, a legal form of cannabis oil, known as CBD or Charlotte's Web, had a dramatic effect on the child.
"I was shaking with fear as I left the house, not knowing whether or not I was doing the right thing, but I couldn't in my wildest dreams have imagined we would get the support we got, from Wexford, Blarney and beyond," Ms Twomey told BBC News NI.
"From the time Ava began taking it on 2 October until the end of the month, she only had seven seizures – usually she would have hundreds.
In a statement on Thursday, Mr Harris's department announced that he wanted to "review Ireland's policy on medicinal cannabis with the best clinical advice and expertise".
The Irish health minister is to meet a mother who set out on a 150-mile walk in a bid to get her daughter life-saving drugs.

@CLEARUK: Cork to Dublin: Mum's walk sparks #cannabis policy review plans #breakthetaboo #EndOurPain
Very few parents would fail to appreciate the anxiety that comes with caring for a sick child in the middle of the night.

But for Vera Twomey, whose daughter, Ava, has a severe form of epilepsy that could kill her, it was "the final straw" when her six-year-old had another violent seizure in the early hours of Wednesday.

The mother-of-four then set out to walk 150 miles from the remote County Cork village of Aghabullogue to the Oireachtas (Irish parliament) in Dublin.

In a Facebook post, she begged the Irish health minister to listen to her, and invited anyone who wanted to "walk a mile of the road" with her to do so.

"I was shaking with fear as I left the house, not knowing whether or not I was doing the right thing, but I couldn't in my wildest dreams have imagined we would get the support we got, from Wexford, Blarney and beyond," Ms Twomey told BBC News NI.

Nine hours and 21 miles into her journey, as she was approaching the town of Mallow, Health Minister Simon Harris contacted Ms Twomey to say he would meet her next week.

Mr Harris then announced plans to review the policy on medicinal cannabis.

Ms Twomey had previously petitioned the Republic of Ireland legislature for the legalisation of a substance she believes would save her daughter's life, but to no avail.

That is because the drug, known as THC, is a component of cannabis.

Although available legally in parts of the US and Australia for medical use, it remains illegal in the Republic of Ireland and the UK.

Clinical trials indicate that Ava's rare condition – Dravet syndrome – can respond well to THC.

None of the many pharmaceutical drugs prescribed for Ava have helped her since she was diagnosed as a baby. Then, her parents were told the seizures could cause her death.

'Talking more, smiling more'

But last month, a legal form of cannabis oil, known as CBD or Charlotte's Web, had a dramatic effect on the child.

"From the time Ava began taking it on 2 October until the end of the month, she only had seven seizures – usually she would have hundreds. We just couldn't believe the difference," Ms Twomey told BBC News NI.

"Suddenly, she was talking more, smiling more, she wasn't in as much pain and even in school they said she was interacting more with staff and pupils."

Given its success, Ms Twomey believes that combining the Charlotte's Web with THC could reduce her symptoms by up to 99%.

"She has astonished doctors with her progress over the past month, but imagine what she could achieve if we accessed medication that has been proven to work even more effectively in the US and elsewhere?

"In the US, children who were having up to 300 seizures a day were reduced to two a month, in some cases it eliminated seizures completely."

When she heard from the health minister, Ms Twomey postponed her walk.

"I have to take the minister at his word, give him time to hear us out and trust that he will take action," she said.

"I just want Ava to be a healthy child with a normal life – she's a great little girl who deserves it."

In a statement on Thursday, Mr Harris's department announced that he wanted to "review Ireland's policy on medicinal cannabis with the best clinical advice and expertise".

It added: "As part of this review, the minister has asked the Health Products Regulatory Authority (formerly the Irish Medicines Board), to provide him with their expert scientific advice.

"This is not a discussion about decriminalising cannabis in any way shape or form, it is about reviewing current policy and seeking to inform ourselves of the latest medical and scientific evidence on the potential medical benefits of cannabis for some people with certain medical conditions."
Cork to Dublin: Mum's walk sparks cannabis policy review plans