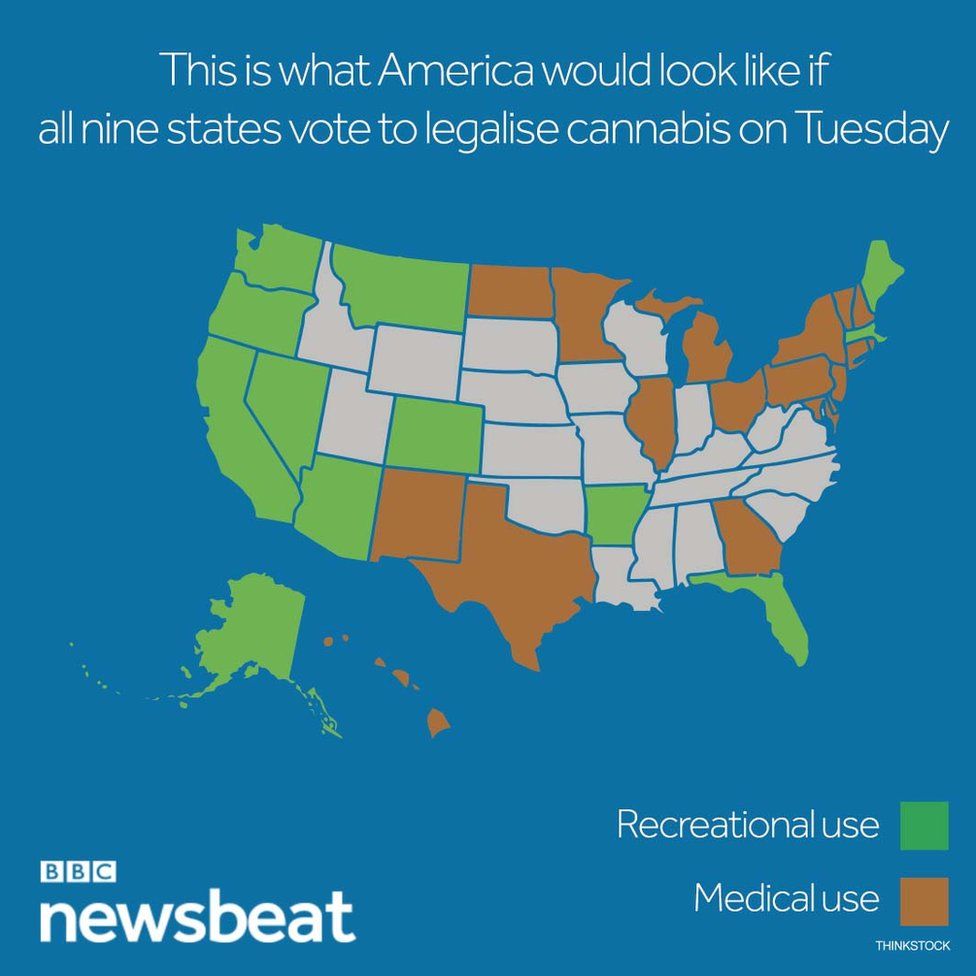 The vote America isn't talking about: Cannabis legalisation
Newsbeat explains the US election
America decides: Trump, Clinton and cannabis
The vote America isn't talking about: Cannabis legalisation
As well as a new president, Americans are about to decide whether to hugely expand the area where cannabis is legal.
Adele becomes richest celebrity under 30
Exclusive music news, big interviews, entertainment, social media trends and video from the news people at BBC Radio 1 and 1Xtra.

@CLEARUK: As well as a new president, Americans are about to decide on #cannabis #breakthetaboo
As well as a new president, Americans are about to decide whether to hugely expand the area where cannabis is legal.

In nine states, on the same day as the election, voters will also get the chance to have their say on the legalisation of marijuana.

If they all vote yes nearly a quarter of Americans over will be able to legally smoke weed for recreational or medicinal reasons once they reach legal age.

Only 20 years ago there was nowhere in the US where this was allowed.

California will make the difference on Tuesday, with its nearly 39 million-strong population.

Ballot papers in five states – Nevada, Arizona, Massachusetts and Maine, along with California – will include the option of allowing over 21-year-olds to use the drug recreationally.

Voters in another four states – Florida, Montana, North Dakota and Arkansas – will be either voting to allow patients access to cannabis for medical reasons, or to expand the terms of the existing law on legalisation on medical grounds.

In America 25 states have already legalised marijuana for medical reasons, while four have previously legalised the drug for recreational use: Washington, Oregon, Colorado and Alaska, as well as in America's capital Washington DC.

A change in the law looks likely, according to opinion polls, and would turn all of America's west coast, from New Mexico all the way up to Washington state and Alaska, into a pot-smoking paradise for cannabis lovers.

Which at the very least, might ease their pain if they don't get the president they wanted…

Find us on Instagram at BBCNewsbeat and follow us on Snapchat, search for bbc_newsbeat

Copyright © 2016 BBC. The BBC is not responsible for the content of external sites. Read about our approach to external linking.